TARGET
---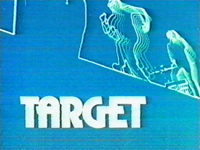 Summary: Target is one of the toughest police series ever - if you are into The Sweeney and The Professionals you should like this one too. Be warned though: there's a remarkable absence of humour, and the violence is nasty and unsettling sometimes (it certainly WAS by 1970s standards).
It is hardly surprising then that the series was not popular with large portions of the general public at the time and only made it to 17 episodes. A shame if one considers the talent involved. Star Patrick Mower was a household name because of his appearances in Callan and Special Branch, producers Philip Hinchcliffe and Graham Williams contributed to Doctor Who, directors David Wickes, Douglas Camfield, Terry Green and others worked for The Sweeney, as did stunt arranger Peter Brayham.
The stories were about fairly ordinary crime: bank jobs, kidnappings, corruption etc. Nothing special here, but the way the production team handled it gave a new meaning to the term "grim realism". Hand-picked BBC cinematographers successfully created a documentary look and a quite depressing atmosphere which is only matched by The Chinese Detective (see separate page). The performers were reliable as usual, with many familiar faces from The Sweeney and The Professionals again.
Target was the BBC's first attempt to produce an action series on film (as opposed to videotape with filmed inserts). The series was developed from a script by well-known TV writer Roger Marshall who withdrew his name when a lot of changes were about to be made. It is Marshall who hides behind the pseudonym of the Blow Out episode.
The aim of this page is to get rid of the folklore which surrounds the series and to analyse what it's all about: what are Target's strengths and weaknesses?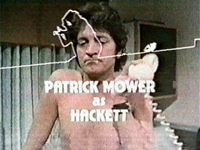 Helpful sources on Target are almost non-existent, with compilers unashamedly relying on (poor) memory and confusing fact and fiction:

"Tough police thriller series, in direct opposition to The Sweeney but without the saving grace of humour. Much criticized for its violence, the first series was curtailed. The last 13 [sic] were more restrained."
(Halliwell/Purser, Halliwell's Television Guide, p.611)

"Not all crime shows of the 70s exhibited (..) care (...). Indeed, as a whole, the police drama just got nasty (...) Target, a mistaken venture from day one, did it with comic-strip brutality that left even TV drama's strongest defenders in the same corner as Mary Whitehouse. Target, too, produced one great episode, Big Elephant, directed by Douglas Camfield who must have thought he was doing Shoestring [in 1977?!] that week (...)"
(Cornell/Day/Topping, The Guinness Book of Classic British TV, p. 213f.)

"However with [Philip] Hinchcliffe's presence on Target, the show soon went out of control – the level of violence becoming intolerable. One episode opened [sic] with a man dousing his unfaithful wife in a vat of boiling water. Not even [The] Sweeney or [The] Professionals ever became that extreme. As you can imagine Mary Whitehouse nearly died at seeing scenes like this – and, for once, the public backed her. The show was cancelled during [sic] its second series (in 1978) after a total of twenty-two [sic] episodes and has never [sic] been repeated in the UK."
(Early entry on Dave Matthews' Professionals site, amended in the meantime)

Geoff Tibballs' TV Detectives discusses Target on one page. Valuable information is zero as usual, but the author recounts the anecdote that Mower's portrayal of Hackett impressed certain people to the extent that they invited him to (get this) deliver speeches at police conferences!

In addition to these there are completely moronic ones (hair/clothes) which initially fuelled this reviewer's motivation to produce something more enlightening:

"ULTRA-VIOLENT sub-Sweeney cop show binned by the Beeb when it proved too much for the public to stomach. Strong on aggro, weak on plot and characterisation, the series starred PATRICK MOWER as Detective Superintendent Steve Hackett (a carefully-coiffeured clothes-horse in combat jacket and jeans who looked about as hard as the Milky Bar Kid) and PHILIP "MR SINISTER" MADOC as his boss, Chief Superintendent Tate. Never repeated on terrestrial TV, although this probably has less to do with the blood, snot and teeth quotient than the fact that it was undeniably mindless shite. And Mower's hairstyle hasn't dated well." (http://tv.cream.org/arkt.htm)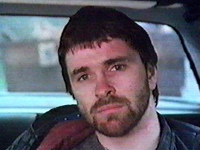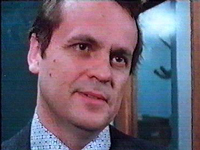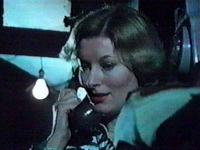 bottom left: Philip Madoc (Tate), top right: Brendan Price (Bonney), bottom right: Vivien Heilbron (Louise Colbert)
Target (1977-78), as not only popular wisdom has it, was the BBC's answer to The Sweeney. In general terms, until 1977 the BBC had restricted their series output to restrained productions, built around strong performances and dialogue, which were also usually videotaped. Target was designed to break new ground for the Corporation. For the first time they made an attempt to beat their ITV competitors in an area where the latter seemed hopelessly superior: action series (made on 16mm film). The experiment was not considered a success unanimously, with the depiction of violence as the focal point of criticism. Cult TV writer Andrew Pixley commented on Target's debut:

"[The Sweeney] had (..) attracted (..) imitators. BBC1 had retired Softly, Softly: Task Force at last and Philip Hinchcliffe was appointed as producer of a new film series, originally conceived as nothing more than a Euston clone. Target surrounded the incompetent chase-and-kick-bollock tales of Steve Hackett played by none other than Patrick Mower. (...) The first episode in September 1977 proved an embarassment and was highly criticized, especially at the time when the Belson report on television violence had just been issued.
(Prime Time Issue 13, p.16)

Eventually the BBC bosses went back to old virtues and, following Target, offered restrained material again with the Shoestring and Bergerac series. They even returned, for The Enigma Files (1979), to the VTR approach.
Production seems to have been under a curse from the outset. Matthew Morgenstern, in his article on Roger Marshall's career, quotes the writer as follows:

"I was hired by the producer [probably Graham Williams – see below] to write a two-hour segment of a thing called Target for Colin Blakely. And that's what I wrote. The producer said he loved it, it was wonderful, full of smashing characters, and could I see him on Saturday afternoon? I said, 'Yes, sure'. He came round, and repeated all these paeans of praise, but then said, 'What would be your reaction if I said 'One hour instead of two'?'. I said, 'I think my reaction would be to say 'Goodbye''. And he said, 'Oh dear, that's terrible!'. And I did no more on it. It was butchered, and doctored by Dougie Camfield, it was made, but somehow or other it didn't turn out to be Colin Blakely, it turned out to be somebody else." (Morgenstern, The Marshall Chronicles, in Prime Time No. 13, p.5.)
This was, according to Morgenstern, the first and only time that Marshall withdrew his name. The episode in question, Blow Out, was credited to the BBC pseudonym David Agnew.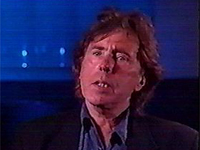 Peter J. Hammond
There is, though, a different account on the origins of Target which is supported by what is left of the official production files: several PasC sheets for Target credit Kenneth Clark as the creator of the format. When interviewed by Darren Giddings at the beginning of 2003, writer Peter J Hammond had the following to say:

"[Ben Bassett] was a wonderful writer. He was an ex-Special Branch policeman whose real name was Ken Clark. He wrote under the name of his dog, which was called Ben and was a Bassett hound! He worked on Z Cars and then went on to get very badly hurt [by the BBC], he had a wonderful story, like Between the Lines before its time, it was about lonely coppers doing surveillance, and it would have been a wonderful show, but the wrong producer got hold of it, dressed it up, and turned it into Target. He wrote lovely, moody scripts about the lot of the policeman, he was good."

In addition to Marshall and Hammond, writers Richard Harris, Tony Hoare and Ray Jenkins as well as all directors except Gordon Flemyng and Francis Megahy had also worked for The Sweeney.

The Target producers were Graham Williams and Philip Hinchcliffe. Hinchcliffe had been in charge of Doctor Who between 1974 to 1977 (season 12 to 14) before being offered the Target project. Williams had been responsible for Z Cars and received the original Target brief, but he is not credited on any episode. He was Hinchcliffe's successor on Doctor Who from 1977 to 1980 (season 15 to 17). In the 1980s he worked on productions like Supergran before eventually withdrawing from the television business. He ran a hotel in Tilverton, became a councillor there and tragically died following a shooting incident in his hotel in August 1990 (details to follow).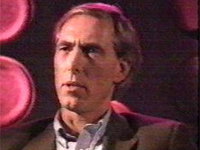 Philip Hinchcliffe
Stunt Arranger Peter Brayham (The Sweeney, The Professionals) was on hand, and many of the guest stars had appeared in the aforementioned series or should still do so (Patricia Hodge, Cheryl Kennedy, T.P. McKenna, Philip Davis, David Daker, Lee Montague head a long list). The crew, however, were stock BBC personnel. Cinematographers Fred Hamilton and Kenneth MacMillan were selected for the demanding task to shoot all of the first season between themselves. Ken Westbury, John Wyatt (DOPs), Bernard Ashby, Chris Wimble and Graham Walker (editors) were later chosen for Shoestring, as was designer Humphrey Jaeger. Valerie Warrender, another designer, had worked on Doctor Who. A fairly mysterious contributor is Colin Tucker, who is credited as script editor on three episodes (Blow Out, Roadrunner, Carve Up).

The following shows the present level of knowledge about what must have happened at the end of of 1977 behind closed doors at the BBC. On the one hand the BBC bosses had noticed how Hinchcliffe had taken Doctor Who to new heights and they thought he was the most suitable choice for a realistic police series such as Target. On the other hand the BBC Director-General at the time, Charles Curran, had sent a written apology to the Viewers ' and Listeners ' Association, which was led by the infamous Mary Whitehouse, on a previous occasion. Curran had admitted that there was "exaggerated depiction of violence" in the Doctor Who story The Deadly Assassin (episode 3, transmitted 13/11/76). An unfortunate role model for the appeasement politics of the future, which differed radically from the approach of Curran's predecessor Hugh Carleton Greene (cf. Howe/Stammers/Walker, The Fourth Doctor, p.162; Miall, Inside the BBC).

In September 1977 the usual noise from the Whitehouse camp was echoed by criticism from the "normal" public (one prominent and expert voice was Troy Kennedy Martin, cf. Crime Writers). The evidence suggests that the reaction was calm (although 9 episodes for season 1 seems an odd choice). The departments for series and serials were combined, and Graeme MacDonald, formerly responsible for serials only, became Head of Series and Serials (in summer '78). Philip Hinchcliffe was allowed to keep his job but his new brief, stronger stories and the violence toned down, is clearly apparent in the second season. In the first leading man Patrick Mower had been allowed to beat the shit out of David Daker (Vandraggers) and Walter Randall (Big Elephant). Now he had to be satisfied with shoving fellow actor Lewis Fiander into some cardboard boxes (Rogue's Gallery). Figures of Importance is virtually non-violent. All the horrific moments in The Trouble With Charlie, Promises, The Run are motivated by the story and/or provided by accidents and explosions. In addition to that the protagonists' outfit changed a little. Both Tate (Philip Madoc) and Hackett came across as more fashionable (!). Gone was Hackett's combat jacket, which had indicated to the viewers that a violent confrontation with the enemy was just around the corner. The replacement was a French cap (!) and, occasionally, a black overcoat. Bonney (Brendan Price) returned clean-shaven to look like a mere police cadet. Louise (Vivien Heilbron) was graced with a perm. Andrew Pixley concludes that:
"Target actually improved too, once it found is own style (...)."
(Prime Time Issue 13, p. 17)

At the same time (1978) the demand for less violence left Target's ITV competitor The Professionals apparently unimpressed. The producers, Raymond Menmuir and Gerry O'Hara, had also promised less violence but Blind Run (directed by Tom Clegg) and Man Without A Past (directed by Martin Campbell) proved impressively that the brief was not taken too seriously. On the contrary: hard-hitting action films to rival big screen efforts were produced. This strategy eventually found the acclaim it deserved: The public got accustomed to the series and made it a hit. The BBC, however, kind of threw in the towel for the time being, not necessarily because they realized that their strengths lay elsewhere but simply because this particular concept seemed wrong. They went on to explore similar avenues with Law and Order (not a series, but a four-parter). At the end of the already short second season (8 episodes) Target was buried.

Patrick Mower offered a view which was slightly different: he wanted to terminate his commitment anyway. With (quite correct) reference to the rather unfortunate fate of Professionals lead Lewis Collins he emphasized in the late 1990s that he did not like to be identified with one particular role. For this reason he had made it his policy never to appear in a series for more than two years. (With respect to Special Branch Mower's claim appears to be questionable. Euston Films had conceived The Sweeney as Special Branch successor and had at no time intended to do another season, whether with or without Mower.)

Shoestring researchers Dene Kernohan and Nick Stewart provided a further enlightening perspective on the end of Target. Robert Banks Stewart, creator of that series, told them:

"After a spell at Thames as a producer/story editor/writer, I was invited to come over to the BBC to produce a retread of their first all-film cop drama series, called Target (...). It was, by their admission, a bit of a copy of The Sweeney, for which I'd also written scripts. Philip Hinchcliffe (...) had recommended me for the job, as he was going off to do a mini-series called Private Schultz, scripted by a brilliant writer, Jack Pulman. (... ) I disliked Target as it was, and wanted to redevelop it, recast the lead, and turn it into a more human story/plus police procedural. I thought of various actors for the lead, but my favourite was James Bolam, someone whom I greatly admired for his gritty realism. Unfortunately, he'd starred in two series of an excellent Geordie drama called When the Boat Comes In. He wanted to do yet one more series of that and, later, was willing to do Target. But the BBC, perhaps quite rightly, reckoned that was pushing it. They said to him, okay, do another series of When the Boat Comes In, but 'no' to subsequently starring in Target as well. It was at that point that I was asked by Graeme McDonald, the Head of Series and Serials: 'Do you really want to do this police series? Why don't we scrap it? Have you got something else in the bag?'" (Kernohan/Stewart, www.eddieshoestring.com)

He had, and that "something" subsequently became Shoestring. The fact that Hinchcliffe went on to produce Private Schultz for the BBC proves that he was not considered persona non grata or bringer of mischief.

All 17 episodes survive in C1 formats (16 mm film) in the BBC archives. The Halliwell/Purser entry which claims that there were 22 is simply a mistake. The BBC may have planned to do more episodes but they remained unfilmed, probably due to filming schedule problems. Two Target novels (see below) were subsequently published. It seems that writers Michael Feeney Callan and Simon Masters were asked to turn their scripts into novels so that the BBC could still put them on the market (at least in one case – they were not involved in the publication of the second book). As Shoestring and Bergerac prove 9 or 8 respectively was not an odd number of episodes for a BBC film series during the years to follow.

In 1983 the BBC tried to relaunch the series on the then soaring video market, releasing the pilot, Shipment, on VHS tape. Regrettably no further releases followed.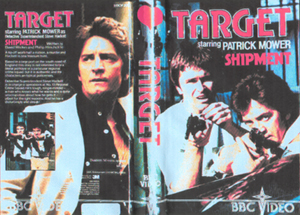 "Shipment" video sleeve
The series has never been repeated on terrestrial stations. The end of 1990 saw the first, and, to date, last, repeat by satellite channel BXB/Galaxy (now defunct). Only the first season (9 episodes) was shown, leaving room for speculation what happened to the rest. They were either considered too weak by BSB, or they were in poor condition.

If we get rid of all the folklore which has been accumulated since 1977 only one verdict is possible: Target is a highly interesting piece of television history, and especially from today's point of view it qualifies as a typical 1970s product absolutely worth watching. Target plots are, generally speaking, rarely original and leave much space for the meticulous depiction of all sorts of "outlaw" behaviour. Those who accept this as a strength will be able to develop an interest in this series which may or may not be a little tougher than certain Sweeney and Professionals episodes.

One thing is certain though, it is much more unpleasant. Target's near heretical message to an audience longing for ever more action scenes on big and small screen is that violence is not an attraction, it is ugly. To complement this we will not find sympathetic characters so that the usual viewer identification process is disturbed. Compared to the arrogant, dictatorial macho that is Hackett characters like Regan, Doyle and Bodie are infinitely more likeable. Critics Leslie Halliwell and Philip Purser have stressed the absence of humor in Target. According to popular wisdom Big Elephant stands out as the series' only 'good' episode. The episode portraits below are to shed some light on the question whether this proposal is accurate.

So much has been said about cloning The Sweeney that a few general remarks seem necessary. Firstly, cloning (if we want to use this simplistic term at all) a good product seems to me more worthwhile than inventing something new which is rubbish. Secondly, Target does not work with some people, and even I do have occasional difficulties with the material. There are a couple of reasons for this, one of them being that it is hard to get emotionally involved with any (!) of the protagonists. One could argue, to echo Troy Kennedy Martin's analysis, that Target takes some of The Sweeney's assets and overemphasizes them. Instead of character depth we see a lot of plain aggressiveness. Compared to The Sweeney the plots are indeed weaker: there is just no match for, say, the well-conceived conflict between two cop and two villain parties in The Bigger They Are. The chemistry between the Target leads seems underdeveloped and fairly monotonous (aggro only). The supporting characters never acquire the status they could have. Where The Sweeney casts its spell on the viewer right from the first scene in Target Patrick Mower virtually smothers everyone and everything else.

New: Patrick Mower's autobiography Season 1:

(1.01) Shipment
(1.02) Blow Out
(1.03) Big Elephant
(1.04) Hunting Parties
(1.05) Vandraggers
(1.06) Lady Luck
(1.07) Set Up
(1.08) Roadrunner
(1.09) Carve-Up

Season 2:

(2.01) Rogue's Gallery
(2.02) A Good and Faithful Woman
(2.03) Queen's Pardon
(2.04) Fringe Banking
(2.05) Promises
(2.06) The Trouble With Charlie
(2.07) Figures of Importance
(2.08) The Run

Special thanks to Peter Culley, Simon Farquhar, Alan Mead, Roger A. McMahon and Bea Wilkesman whose help was invaluable for the creation of this page.


---
Sources:
Robert Fairclough/Mike Kenwood: Sweeney! The Official Companion. London, Reynolds & Hearn Ltd., 2002
(Comment: An absolute must-buy which includes a chapter on the genesis of Target)

Simon Masters: Target - The Men They Once Were, London 1977, BBC
Michael Feeney Callan: Target - The Bronze Heist, London 1978, Arrow

(Comment: Novels/novelizations - see above - which are based on the characters created for the series)
Video:
Target - Shipment, BBC Video, 1983

This is an unofficial and non-commercial website. The rights to Target are held by the BBC. The sole purpose of this page is to promote the abovementioned series - no copyright infringement is intended. However, should the copyright holders be unhappy with my use of screenshots the material in question will be removed immediately.