TARGET
---
Episode 8: ROADRUNNER
Written by James Clare
Produced by Philip Hinchcliffe
Directed by Mike Vardy
(Original tx October 28, 1977) Roadrunner erinnert thematisch an The Placer: Hackett gibt sich als vorbestrafter LKW-Fahrer aus, um eine Gangsterbande von innen aufzurollen. Dabei stößt er auf mehrere Gegner: die Schläger Adcock und Duffy, den Ex-Colonel Fleming und die Gangstermolly Denise Musgrave, nicht zu vergessen DCS Dyer. Die Auseinandersetzung verläuft spannend und actionreich. Die Szenen mit der in jeder Hinsicht bildfüllenden Luan Peters werfen die Frage auf, warum diese nicht häufiger in TV-Gastrollen zu sehen war und sich später sogar mit ausgesprochen dämlichen Rollen (Pacific Banana) über Wasser halten mußte. Eng anliegende bzw. großzügig ausgeschnittene Kleidung sollte auch jene vom Stuhl hauen, die sonst mit Patrick Mower stuff nichts anfangen können.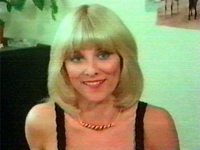 'A lovely girl, that Denise'
Cast:
Ania Marson (Ros), Philip Stone (David Fleming), Luan Peters (Denise Musgrave), Billy Murray (Rex Adcock), Michael Petrovitch (Duffy), Glynn Edwards (Det. Chief Sup. Dyer), Dennis Chinnery (Manning), Kenton Moore (Det. Insp. Donkin), Richard Hampton (Det. Sgt. Burns), Georgina Kean (Roadrunner), Jay Neill (Man in Car), Paul Humpoletz (1st Lorry Driver), James Appleby (2nd Lorry Driver). Uncredited: Terry Plummer, Nigel Humphreys (Thugs), Romo Gorrara (Police Driver)
Crew:
Title Sequence Sid Sutton Title Music Dudley Simpson Production Assistants Ann Aronsohn Ros Parker Production Unit Manager Denis Curran Costume Designer Caroline Maxwell Make-Up Artist Joan Stribling Designer Eric Walmsley Script Editor Colin Tucker Film Sound Dennis Panchen Dubbing Mixer Alan Dykes Film Editor Ken Pearce Dubbing Editor Graham Walker Chief Film Editor Roger Waugh Lighting Cameraman Fred Hamilton Camera Operator Chris Sadler.


---