TARGET
---
Episode 10: ROGUES' GALLERY
Written by Bob Baker & Dave Martin
Produced by Philip Hinchcliffe
Directed by Mike Vardy
(Original tx September 15, 1978) Rogue's Gallery hat keine besonders aufregende Geschichte, ein kleiner Abstieg des sonst verläßlichen Teams Baker/Martin. Als wir gegen Ende Tony Allen in Tates Wagen erkennen, wissen wir wenigstens schon, daß wir uns auf eine ausgedehnte Autoverfolgungsjagd freuen können.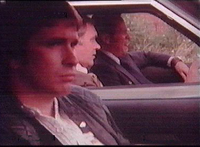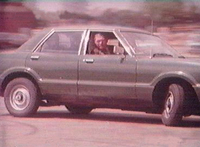 Brendan Price, Tony Allen, Philip Madoc
Not bad at all. Includes plenty of funny dialogue, some good acting. The name of the Dutch painter is mispronounced badly.
Cast:
Jan Francis (Jenny), Lewis Fiander (Kingham), Michael J. Shannon (Bradley), Stephen Bent (Nick), Tony Osoba (Abbo), Glyn Houston (Mostyn Price), Ian Thompson (Collins), Derek Smith (Ponty), Paul Haley (Customs Officer), Diana Weston / Anna Nygh (Girls in Antique Market).
Crew:
Music Dudley Simpson Graphic Designer Sid Sutton Action Arranger Peter Brayham Production Assistants Ann Aronsohn Daphne Phipps Production Unit Manager Colin Dudley Costume Designer George Ward Make-Up Artist Joan Stribling Sound Recordist Malcolm Webberley Dubbing Mixer Ron Edmonds Film Editor Dick Allen Dubbing Editor Michael Crozier Designer John Hurst Chief Film Editor Bernard Ashby Lighting Cameraman Kenneth MacMillan


---