TARGET
---
Episode 17: THE RUN
Written by Peter J. Hammond
Produced by Philip Hinchcliffe
Directed by Terry Green
(Original tx November 10, 1978) In The Run rückt Hackett dem Playboy und Unsympathen Billy auf die Pelle. Die Konfliktparteien schlagen sich die Köpfe ein wegen einer Ladung geschmuggeltem Gold, aber manches kommt anders als geplant ... Ähnlich wie in Big Elephant ist die Milieuschilderung detailreich-liebevoll und überzeugend. Der zeitgenössische Seitenhieb auf Homosexualität fehlt ebensowenig wie die Hackett-typischen Polizeischikanen.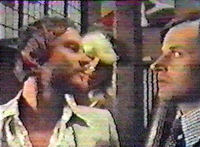 Christopher Neame (left), Jonathan Elsom
Interviewed in 2003, Peter J Hammond told Darren Giddings: "Also I wrote one Target, but (The Sweeney, The Professionals and Target) weren't shows I was happy with. (..) I hadn't thought to write that sort of thing, I'm not happy with it, I never write about guns."
Needless to say as usual Hammond delivered the goods. How good must he be if he likes a show?!
Jonathan Elsom used to be a lawyer (Marcus Golding, QC) in Crown Court. David Telfer appeared as a junior police officer in Bergerac.
This was Ken MacMillan's seventh Target episode - he did as many as establishing cameraman Fred Hamilton.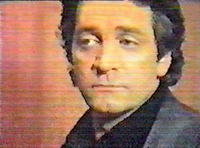 Steve Hackett's last case
Cast:
Christopher Neame (Billy), Jonathan Elsom (George), Tony Caunter (Brice), David Lodge (Escott), Kirstie Pooley (Celia Southern), David Freedman (Michael), Kenneth Gardnier (Wordsworth), Stephen Wright (Dingaling), Jillianne Foot (Plenty), Cindy O'Callaghan (Chrissy), Roland MacLeod (Prentice), David Telfer (Customs Officer).
Crew:
Production Assistants Phillip Hill Andrew Bogle Production Unit Manager Colin Dudley Action Arranger Peter Brayham Graphic Designer Sid Sutton Title Music Dudley Simpson Costume Designer Joyce Mortlock Make-Up Artist Sylvia Thornton Designer Humphrey Jaeger Chief Film Editor Bernard Ashby Film Recordist Malcolm Webberley Dubbing Mixer Ron Edmonds Film Editor Peter Evans Dubbing Editor Roger Davies Photography Kenneth MacMillan.


---