TARGET
---
Episode 2: BLOW OUT
Written by "David Agnew"
Produced by Philip Hinchcliffe
Directed by Douglas Camfield
(Original tx September 16, 1977) Dieser eigentliche Pilotfilm ist inhaltlich recht Sweeney-lastig. Ein Coup geht fürchterlich schief und kostet den Schweißer Rocky Wall das Leben, die Gangstermolly trickst alle aus und flieht unbehelligt ins Ausland, die Gangster Jessal und Skeats erledigen sich gegenseitig, am Ende guckt die Polizei in die Röhre und muß sogar bei Null anfangen. Die Szene, in der Tom Farlow seine untreue Frau "abkocht", knistert vor Spannung. Der eigentliche Gewaltakt spielt sich außerhalb des Bildes ab, was beweist, daß Camfield nicht auf billigen Voyeurismus, sondern wie Hitchcock auf den Schrecken setzt, der sich im Kopf des Zuschauers zusammensetzt. Im übrigen ist das infernalische Geschrei auf der Tonspur Horror genug. Wieder wird deutlich, daß man bewußt roh vorgeht, regelrecht mit Sadismen spielt und das Konzept "Gewalt als Attraktion" unterminiert. Es kann nicht genug hervorgehoben werden, daß es sich hierbei um das Entstehungsjahr 1977 handelt, mithin um eine Zeit, in der das Goutieren von Zombie- und Serienmörder-Brutalitäten nicht einmal im Kino, vom Video ganz zu schweigen, massenhaft verbreitet war.

The only point of criticism: Someone should have told Brendan Price to keep his hands out of his pockets ...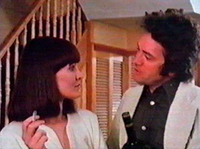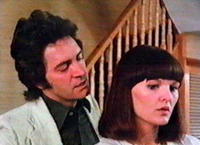 Cast:
Maurice Roeves (Harry Skeats), Sandy Ratcliff (Angie Dawson), Kenneth Colley (Jessal), Christopher Benjamin (Panter), Ron Pember (Tom Farlow), Hilary Crane (Judy Farlow), Dorothy White (Maureen Wall), Michael McKevitt (Rocky Wall), John Lyons (Smith), Tom McCabe (Rigby), Michael Walker (Gerry), John Rapley (Jeweller), Sheila Dunn (Hospital Sister), Geoffrey Leesley (Doctor Warren), Barbara Grant (Hotel Manageress), Nicholas McArdle (Waiter), Harry Fielder (Detective).
Crew:
Action Arranger Peter Brayham Title Sequence Sid Sutton Production Assistant Bruce Milliard Production Unit Manager Denis Curran Costume Designer Prue Handley Make-Up Artist Joan Stribling Designer Andy Dimond Script Editor Colin Tucker Film Sound Dennis Panchen Chief Electrician Dave Mason Dubbing Mixer Stanley Morcom Film Editor Chris Wimble Chief Film Editor Roger Waugh Lighting Cameraman Fred Hamilton Camera Operator Chris Sadler.


---