TARGET
---
Episode 16: FIGURES OF IMPORTANCE
Produced by Philip Hinchcliffe
Written and directed by Chris Menaul
(Original tx November 3, 1978) Figures of Importance ist vielleicht die enttäuschenste aller Folgen. Der einzige rewarding moment findet sich am Schluß (Titel?), wenn Hackett sich achtlos von Maskell abwendet, nachdem seine Resultate eingefahren sind. Patricia Hodge ist in dieser bedeutungslosen Rolle verschenkt. Action-Szenen gibt es keine. Ein seltsames Produkt des ansonsten überdurchschnittlich talentierten Chris Menaul. Für die Übergabeszene wurde ein echter deutscher Darsteller angeheuert (anders als etwa in Special Branch - Hostage!), und so gibt es zumindest Punkte für handwerkliche Sorgfalt.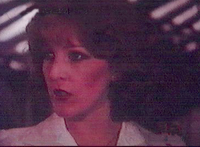 Madocs Einführungsszene straft jene lügen, die in Target Humor vermissen. Sie hat fast einen selbstironischen Touch:

BONNEY, black-eyed, reading out loud: "... ruggedly good-looking Superintendent Steve Hackett who masterminded the operation ..." (...)
No reaction from Louise and others who are quietly busy with their paperwork – cut to BONNEY, surprised, then pan to HACKETT, unexpectedly standing beside him.
HACKETT: Nasty eye you got there, Sergeant. Take care of the other one.
Cut to TATE at his desk, reading the same newspaper. HACKETT enters offscreen.
TATE: Ah ... mastermind!

So who says there is no sense of humour in Target? This opening scene (after the main titles) is just brilliant.
And who says Gemma is too old to be a likely spouse for Hackett? She looks very nice.
Cast:
Alfred Marks (Wally Vincent), Patricia Hodge (Laura Bentley), David Beckett (Terry Maskell), Virginia Stride (Gemma Maskell), John Hartley (Ronnie), Renee Goddard (Caretaker), Grahame Mallard (Det. Cons. Fletcher), Nick Stringer (Matthews), John F. Parker (Gallery Manager), Keith Hazemore (Jimmy Arthur), Michael Wolf (Art Dealer), Rodney Lovick (Sir Eric Beauchamp), Diana Payan (Stenographer), Ken Barker (1st Screw), Ian Cross (Borstal Boy), Emma Shaw (Girl), Ian Hoare (Boy). Uncredited: Tony Allen (Squad Officer).
Crew:
Music Dudley Simpson Graphic Designer Sid Sutton Production Assistants Norman Stewart Daphne Phipps Production Unit Manager Colin Dudley Costume Designer Caroline Maxwell Make-Up Artist Joan Stribling Sound Recordist Dave Jewitt Dubbing Mixer Ron Edmonds Film Editor Dick Allen Dubbing Editor Roger Davies Designer John Hurst Chief Film Editor Bernard Ashby Lighting Cameraman Fred Hamilton.


---