TARGET
---
Episode 6: LADY LUCK
Written by Ray Jenkins
Produced by Philip Hinchcliffe
Directed by Terry Green
(Original tx October 14, 1977) Auch in Lady Luck geht es um einen Zweikampf, den Hackett erst gewinnt, als sein Gegner Ruby Daniels sichtbar gebrochen ist. Formal zeigt sich diese nicht besonders originelle Folge recht experimentell. Es gibt viele Schärfenziehereien, Ansätze zu achronologischem Erzählen in Form von mehr oder minder gut motivierten Rückblenden, ein unmotiviertes Zusammenschlagen Hacketts, rätselhafte Gegenschnitte in der PTS (Collars vs Sam), in der Mitte (Hackett, s.o.) und am Ende (Sam). Am Anfang verweisen sie immer auf Samsons Gewalttaten. Hier werden Schicksale verbunden und Parallelen aufgezeigt – ohne daß diese besonders einsichtig wären. Heaton ist unangenehm perfekt als asozialer Killer. Wieder fällt Hackett durch niederträchtiges Mobbing und unkollegiales Verhalten auf. Im Gegensatz dazu ist er gegenüber der stinkreichen Susan de Veer handzahm, und man fragt sich warum. Macht Erfolg unantastbar? Sehr gut ist die Szene, in der Hackett und Swain unter Beweis stellen, daß sie zwei von einer Sorte sind:

HACKETT: All right, Eric. How long have you been in?
SWAIN: Seven years.
HACKETT: And how long have you been out?
SWAIN: Today ...
HACKETT: And how long do you reckon you're gonna get?
SWAIN: 30 stretch.
HACKETT: Mmh. Then I hope you enjoyed your day out. (Both laugh.)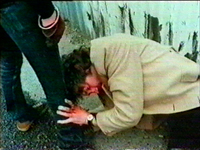 Ein urdeutscher Moment ("Jawohl!") soll wohl ebenfalls für Erheiterung sorgen.
Minuspunkte: Franks Motivation ist recht schwach herausgearbeitet. Der Autostunt scheint unbeholfen geschnitten: in dieser Form strahlt er zu wenig Dynamik aus. Entweder man macht die Zeitlupe weniger extrem, streut Gegenschnitte ein oder stellt eine zweite Kamera auf.

More bits of nasty violence: Collis is shot in the head. Hackett is beaten up by Samson.
Alan Lake is typecast again but one has to admit that nobody does it better. Some good dialogue.
Cast:
Carl Rigg (Det. Con. Dukes), T. P. McKenna (Ruby Daniels), Bridget Turner (Esther Daniels), Aimee Delamain (Susan de Veer), Martyn Jacobs (Frank Daniels), Sara Clee (Samantha Daniels), Alan Lake (Swain), James Marcus (Lewis), Anne Zelda (Elizabeth), Diana Berriman (Woman), Anthony Heaton (Samson), Joe Gladwin (Collars), Max Mason (Forensic D.S.), Stephen Bent (Det. Sgt. Andrews), Elizabeth Norman (Nurse).
Crew:
Action Arranger Peter Brayham Title Sequence Sid Sutton Title Music Dudley Simpson Production Assistant Norman Stewart Production Unit Manager Denis Curran Designer Colin Green Costume Designer Jane Nagy Make-Up Artist Heather Stewart Film Sound Malcolm Webberley Dubbing Mixer Alan Dykes Film Editors Peter Evans Graham Walker Chief Film Editor Roger Waugh Lighting Cameraman Kenneth MacMillan Camera Operator Chris Sadler.


---