TARGET
---
Episode 15: THE TROUBLE WITH CHARLIE
Written by David Humphries
Produced by Philip Hinchcliffe
Directed by Peter Smith
(Original tx October 27, 1978) The Trouble with Charlie (= Koks) ist ein absoluter Hammer und könnte glatt ein Überbleibsel aus der ersten Saison sein, wäre da nicht die alberne Baskenmütze in der pre-title sequence. Die Besetzung ist überragend, das Buch ist sehr gut, das Milieu überzeugend gezeichnet, die Inszenierung des bei Action-Szenen immer etwas desinteressiert wirkenden Peter Smith ist absolut spannend. Alle Sweeney- und Professionals-Fans sollten zusehen, diesen Auftritt von Cheryl Kennedy in die Finger zu kriegen. Die Einspielung des JJ Cale-Songs "Cocaine" wirkt vielleicht zunächst etwas aufdringlich (stating the obvious), erweist sich aber letztlich als adäquat. Die Übergabe –Szene ist derart brillant (schöne Grüße an Miami Vice), daß sie auch im Kino standhalten könnte. Die incidental music dazu kennen wir aus Thriller – Possession (to be verified).
Die rote Karte bekommt einzig und alleine Mr Crozier für die schlampige Bearbeitung des Autostunts (man höre mal genau hin).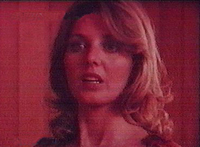 Cast:
Cheryl Kennedy (Julie Somers), John Nolan (Scott Taylor), David Dixon (Paul Marshall), Mark Jones (Jackie Brent), Ben Howard (Oscar Brent), Elin Jenkins (Trish Walker), David Sibley (Mick), Hilary Ryan (Girlfriend), Nigel Greaves (Young Man), Nigel Williams (Customs Officer), Peter Hill (Booking Clerk), Esmond Webb (Shop Owner).
Crew:
Music Dudley Simpson Graphic Designer Sid Sutton Action Arranger Peter Brayham Production Assistants Ann Aronsohn Joe Marks Production Unit Manager Colin Dudley Costume Designer Dennis Brack Make-Up Artist Joan Stribling Sound Recordist Geoff Tookey Dubbing Mixer John Hale Film Editor M.A.C. Adams Dubbing Editor Michael Crozier Designer Eric Walmsley Chief Film Editor Bernard Ashby Lighting Cameraman Ken Westbury.


---