TARGET
---
Episode 4: HUNTING PARTIES
Written by "David Agnew"
Produced by Philip Hinchcliffe
Directed by Chris Menaul
(Original tx September 30, 1977) Hunting Parties beginnt gemächlich und entwickelt eine immense Spannung. Die Gewalt, die man bei dieser Geschichte schon sehr früh erwartet, beginnt spät, ist aber dafür umso härter. Diverse Szenen erinnern an die Profis-Folgen Close Quarters und No Stone aufgrund des Terrorismus-Sujets. Die Szene, in der Jane dem ahnungslosen Bonney mit gezogener Waffe auflauert, ist ganz schön gruselig! Leider geht die politische Komponente – wie üblich, möchte man fast sagen – in all dem Mündungsfeuer unter. So wird die Qualität von Big Elephant nicht ganz erreicht.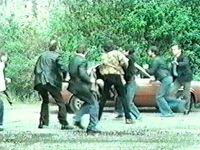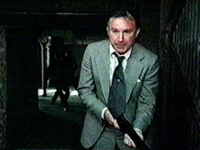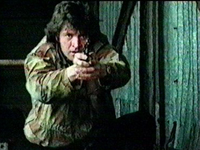 Some of the dialogue is a triumph!
Cast:
Carl Rigg (Det. Con. Dukes), Lee Montague (Richard and Roland Tufnell), Janet Amsden (Jane), Roy Marsden (Mac), Ian MacKenzie (Colin)], Tina Heath (Janet), Andrew McCulloch (Jimbo), Davyd Harries (Billy Miles), Chris Hallam (Gerry), Mark Sheridan (Alan), Lala Lloyd (Hostel Warden), Alison King (Mrs Kemp), Morgan Shepherd (Barman), Arthur Kelly (Drake), Michael Logan (Man In Car), Pat Gorman (CID Man), Marcel Steiner (Harry Kemp).
Crew:
Action Arranger Peter Brayham Title Music Dudley Simpson Title Sequence Sid Sutton Production Assistants Rosalyn Parker Terence Banks Production Unit Manager Denis Curran Designer Valerie Warrender Costume Designer Roger Reece Make-Up Artist Judy Cain Film Sound Dennis Panchen Dubbing Mixer Alan Dykes Film Editors Dick Allen Graham Walker Chief Film Editor Roger Waugh Lighting Cameraman Fred Hamilton Camera Operator Chris Sadler.


---