TARGET
---
Episode 5: VANDRAGGERS
Written by Bernie Cooper & Francis Megahy
Produced by Philip Hinchcliffe
Directed by Francis Megahy
(Original tx October 7, 1977) Der Titel ist ein macguffin. In Wirklichkeit geht es um den Zweikampf Hackett gegen Ansell, von beiden Seiten mit bedingungsloser Härte geführt. Die Szene, in der Ansell von der Schrotflinte Gebrauch macht, spricht für sich. Hacketts Rücksichtslosigkeit ist ein wenig subtiler und zeigt sich zum Beispiel darin, wie er Kollegen heruntermacht, z.B. jene im Streifenwagen. Das Bild eines Karrieristen, das hier entworfen wird, ist keineswegs besonders sympathisch, aber allemal interessant. Hackett ist immer im dicksten Getümmel, ähnlich wie Jack Regan, aber dennoch ein Gegenentwurf, da er sich nach oben zu boxen versteht. Die Motivation der Figur, und das macht die Serie vielleicht ähnlich angreifbar wie The Professionals, wird allerdings nicht sonderlich gut herausgearbeitet. Es erscheint oft so, als seien Hacketts Prügeln und Schnarren blanker Selbstzweck. Dies läßt sich jedoch auch anders sehen: asoziales Benehmen, so scheint hier postuliert zu werden, ist nicht nur die Grundvoraussetzung für eine Hardliner-Verbrechensbekämpfung, sondern auch für einen erfolgreichen Umgang mit der der polizeilichen Hierarchie.

Die Szene, in der DCS Tate einen Schmieresteher überrascht, ist eines der wenigen Beispiele für (freilich sehr eigenen) Humor.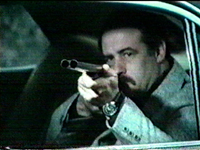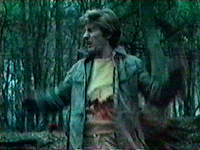 A very good episode if you catch it in the right mood; similar plot-wise to The Sweeney's Night Out. Seeing two of Britain's most prominent stuntmen (Powell and Henson) in action is worth the price of admission alone. Apart from that it's a caper movie cum film noir (a lot of night filming) with contemporary violence thrown in. The last part comes across like a forerunner to The Great Riviera Bank Robbery by the same writer/director team. Some of the direction is downright splendid, notably the exchanges between Hackett and Tate in a deserted office.
Cast:
David Daker (Mike Ansell), Bernard Spear (Tyler), Ania Marson (Ros), Philip Davis (Ray), Billy Hamon (Terry), Peter Birrel (Eric Gill), Colin Edwynn (Finch), Ivor Roberts (Bank Manager), Martin Read (Police Sergeant), Peter Holt (Reg Butler), Kenneth Waller (Warehouse Transport Manager), Robert Farrant (Kenny), Eddie Powell (Doug), Frank Henson (Eddy), Nick Hobbs (Truck Driver).
Crew:
Action Arranger Peter Brayham Title Sequence Sid Sutton Title Music Dudley Simpson Production Assistants Terence Banks John Harris Production Unit Manager Denis Curran Designer Gloria Clayton Costume Designer Sheila Beers Make-Up Artist Sylvia Thornton Film Sound Malcolm Webberley Dubbing Mixer Alan Dykes Film Editors Chris Wimble Graham Walker Chief Film Editor Roger Waugh Lighting Cameraman Kenneth MacMillan.


---