THRILLER
---
Episode 42: A MIDSUMMER NIGHTMARE
Written by Brian Clemens
Produced by Ian Fordyce
Directed by Don Leaver
(tx date May 15, 1976)
US: Appointment With A Killer
fr: Cauchemar d'une nuit d'été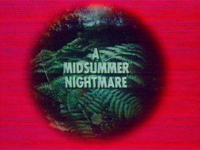 Als der Privatdetektiv Johnny Baxter nach Italien verreist, schlüpft seine Frau Jody kurzentschlossen in seine Rolle. Sie will Arnold Tully helfen, herauszufinden, wer vor fünf Jahren seine Pflegetochter Annabella ermordet hat.
A Midsummer Nightmare firmiert wie K Is for Killing eher als Experiment, funktioniert aber besser. Auf Gruselelemente wird weitgehend verzichtet, die Balance zwischen ernstem Drama und Lockerheit besser gehalten.
Rating: ****
Cast:
Joanna Pettet (Jody Baxter), Brian Blessed (Det. Sgt. Briggs), Freddie Jones (Arnold Tully), Norman Rodway (Peter Ingram), Anthony Pedley (Charley Spencer), Elsie Randolph (Mrs Fitch), Tony Anholt (Johnny Baxter), John Ruddock (Williams), Alison Glennie (Annabella Tully), Thom Delaney (Detective).
Crew:
Wardrobe Supervisor James Dark Make-up Supervisor Dianne Joyce Film Cameraman Tony Mander Film Editor Stanley Staffe Senior Cameraman Dennis Bartlett Sound Director Bob Woodhouse Senior Vision Control John Crane VTR Editor Peter Charles Music Supervision Paul Clay Lighting Director Alistair Morrison Designer Anthony Waller Floor Manager (uncredited) Vision Mixer (uncredited) Administrator (uncredited) Production Secretary (uncredited) Production Assistant (uncredited) Executive Producer (uncredited).

This is an unofficial and non-commercial website. The rights to Thriller are held by Carlton Television. The sole purpose of this page is to promote the abovementioned series - no copyright infringement is intended. However, should the copyright holders be unhappy with my use of screenshots the material in question will be removed immediately.