THRILLER
---
Episode 39: NIGHTMARE FOR A NIGHTINGALE
Written by Brian Clemens
Produced by Ian Fordyce
Directed by John Scholz-Conway
(tx date April 24, 1976)
US: Melody of Hate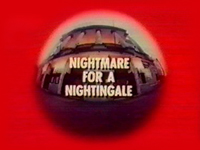 Opera singer Anna Cartell intends to put an end to her career and to marry American Hal Bridie - to the dismay of her manager, Sam. Events take a nasty turn when Anna's ex-husband Tony returns from the dead.

Die populäre Opernsängerin Anna Cartell will ihre Karriere beenden, um den Diplomaten Hal Bridie zu heiraten – sehr zum Verdruß von Annas Manager Sam. Dann begegnet Anna ihrem totgeglaubten Ehemann.
Das große Problem in dieser ansonsten recht gelungenen Folge ist, daß man schon recht früh weiß, wie der Hase läuft. Es läßt sich darüber streiten, ob das Opernmilieu für zusätzliche reizvolle Aspekte sorgt.
Rating: ***
Cast:
Susan Flannery (Anna Cartell), Keith Baxter (Tony Risanti), Sydney Tafler (Sam Meadows), Ronald Leigh-Hunt (Giles Turner), Stuart Damon (Hal Bridie), Gita Denise (Marie), Stephen Greif (Tramp), Peter Hill (Purvell), Anthony Dawes (Doctor), Edwin Brown (Theatre Manager), Michael Dickinson (First Reporter), Mike Kinsey (Second Reporter), Charles Cork (Stagehand), "Anna" sung by Teresa Cahell, "Tony" sung by Richard Lewis.
Crew*:
Wardrobe Supervisor Dawn Evans Make-up Supervisor Sheila Mann Film Cameraman Tony Mander Film Editor Stanley Staffe Senior Cameraman Mike Whitcutt Sound Director Bob Woodhouse Senior Vision Control Jay Brown VTR Editor Al Pigden Music Supervision Paul Clay Music Laurie Johnson Lighting Director (uncredited) Designer Lewis Logan Stage Manager Sue Thornton Vision Mixer Mary Forrest Administrator Ron Brown Production Secretary Jenifer Blackden Production Assistant Sonia Hampson Executive Producer (uncredited).

*re-assembled from available on-screen credits

This is an unofficial and non-commercial website. The rights to Thriller are held by Carlton Television. The sole purpose of this page is to promote the abovementioned series - no copyright infringement is intended. However, should the copyright holders be unhappy with my use of screenshots the material in question will be removed immediately.