THRILLER
---
Episode 40: DIAL A DEADLY NUMBER
Written by Brian Clemens
Produced and directed by Ian Fordyce
(tx date May 1, 1976)
fr: Un appel fatidique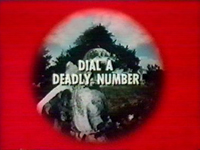 Down-and-out actor Dave Adams introduces himself as a psychiatrist to Helen Curry. A nice little earner - is it?
A personal favourite. Period.

Durch Zufall stößt der zwielichtige Dave Adams auf eine potentielle Goldgrube: Er gibt sich gegenüber der wohlhabenden Helen Curry als Psychiater aus und erschleicht sich deren Vertrauen. Dave ist nicht bewußt, daß er sich in die Höhle des Löwen begeben hat ...
Besticht in jeder Hinsicht. Besonders gut ist zu sehen, wie die meisterliche Beleuchtung für Gruselatmosphäre sorgt.
Rating: ****+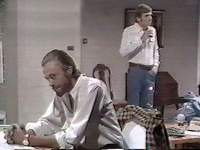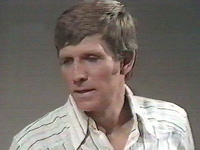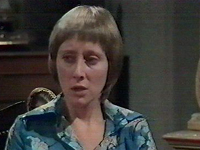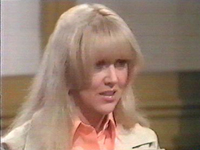 Cast:
Gary Collins (Dave Adams), Gemma Jones (Helen Curry), Beth Morris (Sally Kirby), Linda Liles (Ann Curry), Cavan Kendall (Tim Foster), Peter Schofield (O'Hara), Richard Warner (Baxter), Charles Lamb (Caretaker), Dennis Blanch (Paul Kirby).
Crew*:
Wardrobe Supervisor Stuart Currell Make-up Supervisor Dianne Joyce Film Cameraman Tony Mander Film Editor Roy Jordan Senior Cameraman Stan Pilgrim Sound Director Len Penfold Senior Vision Control Jay Brown VTR Editor Al Pigden Music Supervision Paul Clay Music Laurie Johnson Lighting Director Hamilton J. (Jim) Willis Designer Richard Lake Floor Manager Jeremy Van Bunnens Vision Mixer Felicity Maton Administrator Ron Brown Production Secretary Jenifer Blackden Production Assistant Gillian Moncrieff Executive Producer Cecil Clarke.

*re-assembled from available on-screen credits

This is an unofficial and non-commercial website. The rights to Thriller are held by Carlton Television. The sole purpose of this page is to promote the abovementioned series - no copyright infringement is intended. However, should the copyright holders be unhappy with my use of screenshots the material in question will be removed immediately.