THRILLER
---
Episode 38: THE NEXT VICTIM
Written by Brian Clemens
Produced by Ian Fordyce
Directed by James Ormerod
(tx date April 17, 1976)
fr: La prochaine victime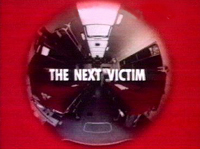 A killer is on the loose - and after wheelchair-bound Sandy Marshall?
Poor Sally Harrison who was in The Purging of CI5 only has a non-speaking role (she doesn't even scream). She is the third victim.

Seit einem Verkehrsunfall ist Sandy Marshall an den Rollstuhl gefesselt. Als ihr Mann an einem heißen Feiertag auf Geschäftsreise ist, wähnt sie sich als leichtes Opfer des Frauenmörders, die die Stadt in Atem hält.
Zu grell, und die Hauptfigur läßt relativ kalt. Der Rollstuhl ist nur Requisit - um die Geschichte plausibler zu machen, hätte man wenigstens eine Pflegekraft bereitstellen müssen.
Rating: **+

There are a couple of differences between the ATV version and the US TVM version.
ATV: Fade Out after Frampton and Small get into the car.
NTSC: Doctor says 'He'll do it again', Small grins: music wells up (indicates commercial break).
Silence in the ATV version, although the music of the following scene is intact.
NTSC: Fade out after Frampton says 'Start reading' and puts the newspaper on his head.
NTSC: Extended scene: After entering the house Betty presses the elevator button (music wells up), and there is a pan to the open door. (This might have been a commercial break.)
The ATV version cuts away when Betty enters the house, and the music ends abruptly.
Time: 0'07
NTSC: Fade out on Betty's legs as she is forced into her apartment. (CB)
ATV: Music ends abruptly.
ATV: Fades out after an object knocks a bottle down in Bartlett's apartment. (The NTSC version just cuts to the following scene.
ATV: Woodwind music (until near end of scene) as Tom climbs towards Mrs Marshall. (NTSC w/o music)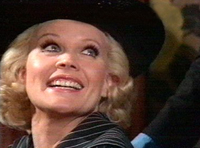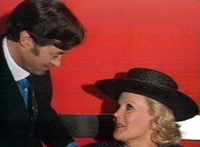 Cast:
Carroll Baker (Sandy Marshall), T P McKenna (Frampton), Maurice Kaufmann (Derek Marshall), Ronald Lacey (Bartlett), Max Mason (Tom Packer), Ian Gelder (Small), Brenda Cavendish (Betty Tyler), Martin Benson (Spiros Lemke), Margo Reid (Laura Lemke), Anita Sharp-Bolster (Mrs Bluther), Paul Haley (Doctor), Andrea Allan (Janet Cunningham), Martin Fisk (Mr Sheldon), Alan Gerrard (Mr Firth-Benham), Dorothea Phillips (Mrs Firth-Benham), Harold Bennett (Blind Man), Felicity Harrison (Mrs Adams), Patsy Dermott (Barbara), Sally Harrison (Joyce).
Crew*:
Wardrobe Supervisor Ann Hollowood Make-up Supervisor Sheila Mann Film Cameraman Tony Mander Film Editor Tom Rowland Senior Cameraman Bill Brown Sound Director Len Penfold Senior Vision Control John Crane VTR Editor Al Pigden (ATV version: Peter Charles) Music Coordinator Paul Clay Music Laurie Johnson Lighting Director Tony Hudspith Designer Richard Lake Stage Manager Sue Thornton Vision Mixer Mary Forrest Administrator (uncredited) Production Secretary Jenifer Blackden Production Assistant Vivien Clements Executive Producer (uncredited).

*re-assembled from available on-screen credits. This is the only instance of a crew credit contradiction. Peter Charles is probably correct.

This is an unofficial and non-commercial website. The rights to Thriller are held by Carlton Television. The sole purpose of this page is to promote the abovementioned series - no copyright infringement is intended. However, should the copyright holders be unhappy with my use of screenshots the material in question will be removed immediately.