THRILLER
---
Episode 37: SLEEPWALKER
Written by Brian Clemens
Produced by Ian Fordyce
Directed by Alan Gibson
(tx date April 10, 1976)
fr: La somnambule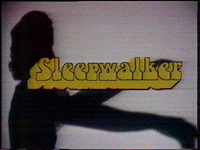 Katey walks in her sleep and witnesses the murder of an old man. Is it a dream or reality?
You know this is a winner right from the start. The musical achievements (Sleepwalker theme) are wonderful, just like the lighting. Several low-angle shots emphasize threat/impending danger. Interest in characters is established immediately. Summers' house of mysteries takes over where Someone at the Top of the Stairs stopped. Familiar to Basil Copper readers: Bits and pieces of a progressing nightmare come to light.
The two phonecalls are a mystery to me, and the conclusion seems rushed.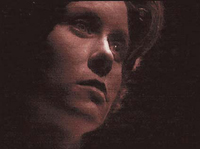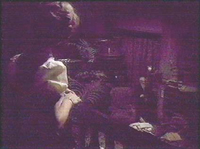 Katey Summers glaubt, den Mord an einem alten Mann beobachtet zu haben. Doch sie schlafwandelt, und was Traum ist und was Wirklichkeit erweist sich als schwierig festzustellen.
Sleepwalker ist vielleicht nicht hundertprozentig schlüssig, ragt jedoch trotzdem heraus wegen einer starken Geschichte und großer Spannung. Technisch vergleichsweise aufwendig: Für die Traumsequenzen wurden die Studioszenen über eine Wasseroberfläche projiziert. Die Kulisse ähnelt der aus Come Out frappierend.
Rating: ****+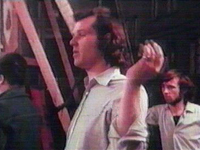 Alan Gibson
Cast:
Darleen Carr (Katey Summers), Robert Beatty (Dan Summers), Michael Kitchen (Ian), Ian Redford (Barnstapple), Basil Lord (Parsons), Elaine Donnelly (Esme), Eileen Peel (Suzy), Harry Webster (Hopcroft), John Challis (Peter), Desmond Jordan (Telson), Jane Williams (Louise), George Herbert (Pearson).
Crew*:
Wardrobe Supervisor Sue Lecash Make-up Supervisor Dianne Joyce Film Cameraman Tony Mander Film Editor Colin Slade Senior Cameraman Roy Simper Sound Director Len Penfold Senior Vision Control Jim Reeves VTR Editor Al Pigden Music Supervisor Paul Clay Music Laurie Johnson Lighting Director Pete Dyson Designer Michael Eve Stage Manager Maggie Summerfield Vision Mixer Carole Legg Administrator Ron Brown Production Secretary Jenifer Blackden Production Assistant Gillian Moncrieff Executive Producer Cecil Clarke.

*re-assembled from available on-screen credits

This is an unofficial and non-commercial website. The rights to Thriller are held by Carlton Television. The sole purpose of this page is to promote the abovementioned series - no copyright infringement is intended. However, should the copyright holders be unhappy with my use of screenshots the material in question will be removed immediately.