THRILLER
---
Episode 29: WHERE THE ACTION IS
Written by Brian Clemens
Produced by John Cooper
Directed by Don Leaver
(tx date February 8, 1975)
US: The Killing Game
Ger: Villa mit Friedhof
fr: Un mauvais perdant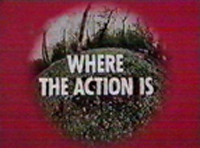 Daddy Burns is a rich man and a gambler who loves taking high risks – and expects the same from his opponents. Eddie Vallance accepts the challenge.

Der reiche "Daddy Burns" ist ein leidenschaftlicher Spieler, der seine Gegner kidnappen und sich ins Haus liefern läßt. Tommy Vaughn überlebt die Variation des Russischen Roulettes nicht, die Burns ihm aufzwingt. Dann geht Daddys Gefährtin Ilse mit Eddie Vallance der nächste Fisch ins Netz.
Strukturelle Ähnlichkeiten zu A Coffin for the Bride - man vergleiche die Rollen von Byrnes und Mirren - sind nicht zu übersehen.
Rating: ***+
Cast:
Edd Byrnes (Eddie Vallance), James Berwick ("Daddy" Burns), Ingrid Pitt (Ilse), Trevor Baxter (Winters), George Innes (Zac), Frank Coda (Pursell), Oliver McGreevy (Henry), Larry Cross (Tommy Vaughan), Ray Marioni (Croupier), Suzannah Williams (Maid).
Crew*:
Gaming Adviser Ray Marioni Wardrobe Supervisor Ann Hollowood Make-up Supervisor Shirley Muslin Film Cameraman Tony Mander Film Editor Stanley Staffe Senior Cameraman Bill Brown Sound Director Bob Woodhouse Senior Vision Control John Willment VTR Editor (uncredited) Music Coordinator Paul Clay Music Laurie Johnson Lighting Director Alistair Morrison Designer Henry Graveney Senior Floor Manager Sean O'Farrell Stage Manager Mari Markus Vision Mixer Carole Legg Administrator Ron Brown Production Secretary (uncredited) Production Assistant (uncredited) Executive Producer (uncredited).

*re-assembled from available on-screen credits

This is an unofficial and non-commercial website. The rights to Thriller are held by Carlton Television. The sole purpose of this page is to promote the abovementioned series - no copyright infringement is intended.