THRILLER
---
Episode 28: A KILLER IN EVERY CORNER
Written by Brian Clemens
Produced by John Cooper
Directed by Malcolm Taylor
(tx date February 1, 1975)
fr: Un assassin à chaque tournant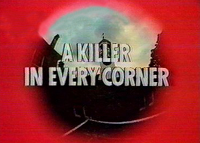 Three students, Sylvia, Helga and Tim, receive an invitation to Professor Carnaby's house. They'll soon discover that the Professor dabbles in human experiments.

Drei Studenten, Sylvia, Helga und Tim, erhalten eine Einladung in das Haus des berühmten Professor Carnaby. Dieser führt makabre Experimente mit (mindestens) zwei finsteren Gesellen, Boz und Kesselheim, durch.
Nicht so unmittelbar zugänglich wie die meisten anderen Folgen und nochmal deutlich "konzentrierter", da die sieben Protagonisten nach der Ankunft in Carnabys Haus dieses nicht mehr verlassen (keine Filmaufnahmen bis zur letzten Einstellung). Vergleichsweise blutig (Kesselheim schrubbt die Zellenwand!) und gewalttätig. Arbeitet mit einem neuen (alten) Motiv: dem des mad scientist. Daß viel Zeit dem Unsympathen Carnaby gehört, sorgt für ein gewisses Desinteresse des Zuschauers. Die Darstellung von Helga als plapperndem Landei mit Akzent sowie Tim als jugendlichem Kanonenfutter ist ein bißchen anstößig. Es obliegt der überragenden Joanna Pettet, all dies wieder auszugleichen. Eric Flynn wiederum kommt daher als Doppelgänger von Gareth Hunt, mit entsprechender Ausstrahlung.
Die Sets sind ausgezeichnet; auch das zu erkennen erfordert wiederholtes Ansehen. Don Hendersons Schauspielkunst zu verstehen will gelernt sein - die Boz-Rolle ist ein exzellentes Beispiel. Ist das nun besonderes, unkonventionelles Timing oder schlicht overacting? Wenn seine Figur ruhig bleibt (etwa bei der Bestrafung des zwanghaft Schuhe putzenden Deutschen), ist Henderson fast am beeindruckendsten. Die Auflösung ist keine richtige Überraschung, denn dem Professor entschlüpft frühzeitig ein entsprechender Hinweis.
Johnsons incidental music orientiert sich unüberhörbar am Sujet, und sie nervt. Hier hat sich der große Meister ein wenig verhauen.

Barry reports that there are at least two extended scenes in the NTSC TVM: "The first is where Boz smears Kesselheim's shoes with polish, which goes on a fair bit longer; the second follows directly on from that where the two girls comment on Boz's 'lapse'."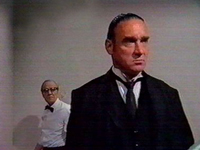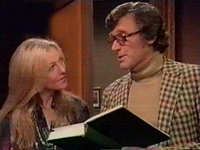 Cast:
Joanna Pettet (Sylvia), Patrick Magee (Professor Carnaby), Max Wall (Kesselheim), Eric Flynn (Slattery), Don Henderson (Boz), Petra Markham (Helga), Peter Settelen (Tim).
Crew*:
Wardrobe Supervisor James Dark Make-up Supervisor Sheila Mann Film Cameraman Tony Mander Film Editor George Clark Senior Cameraman Roy Simper Sound Director Bob Woodhouse (Senior Vision Control) John Richardson VTR Editor Al Pigden Music Coordinator Paul Clay Music Laurie Johnson Lighting Director Selwyn Harper Designer Henry Graveney Senior Floor Manager Trevor Lowndes Floor Manager Richard Jones Administrator Ron Brown Production Secretary (uncredited) Production Assistant Eunice Bird Executive Producer Cecil Clarke.

*re-assembled from available on-screen credits

This is an unofficial and non-commercial website. The rights to Thriller are held by Carlton Television. The sole purpose of this page is to promote the abovementioned series - no copyright infringement is intended.