THRILLER
---
Episode 23: THE NEXT SCREAM YOU HEAR
Written by Brian Clemens
Produced by John Sichel
Directed by Robert D. Cardona
(tx date July 6, 1974)
US: Not Guilty!
Ger: Experten unter sich
fr: Un coup monté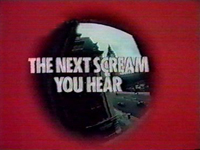 When Bernard Peel's wife is murdered the police find a lot of evidence against him. Detective Earp sets out to prove Peel's innocence.

Der amerikanische Wirtschaftsfachmann Bernard Peel gerät unter Verdacht, als seine Frau Jennifer ermordet aufgefunden wird. Peel kann sich an nichts erinnern und wird verhaftet. Er beauftragt den Detektiv Matthew Earp, seine Unschuld zu beweisen. Dieser stößt auf eine Frau, mit der Peel am Abend des Mordes eine flüchtige Begegnung hatte.
Exzellenter Aufbau, klasse Darstellung.
Rating: ****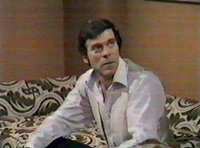 Cast:
Christopher George (Bernard Peel), Dinsdale Landen (Matthew Earp), Richard Todd (Tulliver), Suzanne Neve (Blonde), Edward Hardwicke (Gifford), Derek Bond (Maycroft), Hans Meyer (Karl Vorster), Frank Wylie (Hendry), Andrew Mann (Garfield), Marion Diamond (Jennifer Peel), Belinda Mayne (Boutique Assistant), Simon Merrick (Doctor).
Crew*:
Wardrobe Supervisor Claire Sorrell Make-up Supervisor Shirley Muslin Film Cameraman Tony Mander Film Editor Stanley Staffe Senior Cameraman Roy Simper Sound Director Bill Nuttall Senior Vision Control Gerry Taylor VTR Editor Ray Knipe Music Coordinator Paul Clay Music Laurie Johnson Lighting Director Alistair Morrison Designer Stanley Mills Production Manager Pat Richards Vision Mixer Moyra Bird Administrator Ron Brown Production Secretary (uncredited) Assistant Production Manager Joan Reader Executive Producer (uncredited).

*re-assembled from available on-screen credits


German TV listing from 1982 - (c) Hörzu
This is an unofficial and non-commercial website. The rights to Thriller are held by Carlton Television. The sole purpose of this page is to promote the abovementioned series - no copyright infringement is intended.