THRILLER
---
Episode 22: COME OUT, COME OUT WHEREVER YOU ARE
Written by Brian Clemens
Produced and directed by John Sichel
(tx date June 29, 1974) Cathy has been at the scene of violent crime but her memory is gone.

Cathy More und Jane Howard verbringen ihren Urlaub in England, als etwas Schreckliches passiert – zu schrecklich für Cathy, denn sie verliert ihr Gedächtnis. In der Pension von Arthur und Alice Lewis versucht sie den Faden wieder aufzunehmen. Verzweifelt sucht sie nach ihrer Freundin, die verschwunden ist, aber niemand will Jane gesehen haben.
Come Out ist die einzige Episode, die mit Rückblenden arbeitet. Interessanterweise hilft diese Technik dabei, Unlogik in der Handlung zu kaschieren. Georges Flashbacks und Geschrei passen eigentlich nicht zur Auflösung. Come Out ist auch unverhohlen frauenfeindlich, bzw spielt auf recht komplexe Weise mit der Frauenfeindlichkeit seiner Figuren. Jeffreys Darstellung sorgt für eine aus dem Rahmen fallende Variation: die des unsympathischen (und inkompetenten?) Ermittlers.
Rating: ****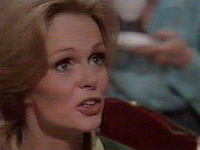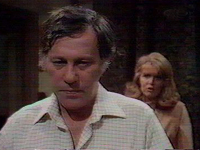 Cast:
Lynda Day George (Cathy More), Peter Jeffrey (Dexter), John Carson (Arthur Lewis), Colette O'Neil (Alice Lewis), Bernard Holley (Paul Eastman), Richard Corbet (Reeves), Kathleen Mallory (Jane Howard), John Line (Davis), Molly Weir (Miss Pendy), Kevin Brennan (Parminter).
Crew:
Wardrobe Supervisor Sue Lecash Make-up Supervisor Marion Phillips Film Cameraman Tony Imi Film Editor Glen Cardno Senior Cameraman Mike Whitcutt Sound Director Bob Woodhouse Senior Vision Control Gerry Taylor VTR Editor John Hawkins Music Coordinator Paul Clay Music Laurie Johnson Lighting Director (uncredited) Designer Bryan Holgate Floor Manager Paul Harrison Vision Mixer Carole Legg Administrator Ron Brown Production Assistant Paula Burdon Stunt Man Roy Scammel.

This is an unofficial and non-commercial website. The rights to Thriller are held by Carlton Television. The sole purpose of this page is to promote the abovementioned series - no copyright infringement is intended.