THRILLER
---
Episode 21: IN THE STEPS OF A DEAD MAN
Written by Brian Clemens / Luanshya Greer
Story by Brian Clemens
Produced by John Sichel
Directed by Shaun O'Riordan
(tx date June 22, 1974)
fr: Le mur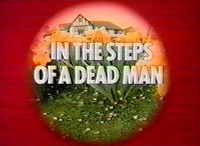 Betty and George Cornfield still bemoan their son's unexpected death when Marty Fuller knocks on their door. He introduces himself as Tommy's best friend and is received with open arms.
Standing ovations for this one! Big screen predecessors include Roy Boulting's Twisted Nerve (with Hywel Bennett in the Nolan role).

George und Betty Cornfield trauern um ihren einzigen Sohn Tommy, der bei einem Unfall ums Leben kam. Betroffen ist auch Sheila, die Tommy heiraten wollte. Eines Tages steht Marty Fuller vor der Tür, ein junger Mann, der sich als Tommys Regimentskamerad und Freund vorstellt. Er verändert das Leben der Trauernden vollständig.
Besticht durch viele Feinheiten (man denke nur an die exzellent gespielten Soldaten-Nebenrollen). Top!
Rating: ****+

The US TVM has several extended scenes, others are edited slightly differently.
The PAL TVM has at least two of these scenes, so it will be assumed that the two are identical or at least very similar.
1) The introductory pan is longer (copying fault? – not sure).
2) The ATV version stops with Betty Cornfield saying 'We should ask them over', George nodding. Additional footage in US TVM:
George: Yes.
Betty: It'd be company for us. (Pause.) Darling, you haven't been down to your work for a few weeks. How about these gadgets you were working on? Isn't it about time you finished that?
George: It was for Tommy. (Turns away.)
Betty turns around to look at photo on mantelpiece, music wells up, she sighs: 'Tommy ...'
(Music overlaps into following scene.)
Time: 0'23
3) Extended scene: Betty switches off a few lights before checking on George in the cellar.
Time: 0'18
4) Extended scene:
(Phone rings)
Grace, sleepily: Hello ... no, no, this is Grace. Uh, Hello Mrs Cornfield.
Time: 0'13
5) Marty (shoves away pic on mantelpiece): I can't believe I'm going to meet her at last.
Betty: You'll adore Sheila.
George: She's a lovely girl. She's ...
Marty: ... like spring. She belongs to spring as sure as the sunshine, the budding bloom to the vitality of the new-born.
Sheila: These were Tommy's words.
(Sheila enters room.)
Time: 0'18
The music in the latter scene is different, too. US TVM: more threatening, longer, starts with new scene. ATV: more neutral, romantic-sentimental, short, overlaps: Sheila/Marty/Sheila. I seem to recognize the short tune as almost identical to the first part of the longer one.
6) Extended scene in US TVM (after Marty and Sheila leave the room in order to spend their first evening out together):
George: Now, you two sit down and do whatever you want. I have work to do.
Betty (to Grace): Marty is going to make such a difference to us all. I know it.
Time: 0'10
7) Slightly different scene in US TVM (after Sheila accuses Grace of being jealous):
ATV: Sheila's face is seen in close up when she says 'He's the kind of man you could fall in love with.' There's a fade out after that.
US TVM: Cuts away prematurely to close-up of flower. The abovementioned sentence is used as a voiceover.
Time: 0'02?
8) US TVM: Grace with ticket in hand: music wells up. (Commercial break.)
ATV: no music
9) Different music editing (seems the same otherwise):
ATV: Wells up when Sheila says "How badly was Tommy wounded?"
US TVM: Wells up (later) when Marty says "He would have lived."
10) ATV: Fade out after relatives arrive at funeral.
US TVM: Cut to next scene with Aubrey.
11) Extended scene in US TVM: Marty and others are seen accompanying Mrs Howes to her house.
Time: 0'15
12) Additional scenes in US TVM: O'Hara writes down first part of his phone number, Marty and Betty about to enter the Cornfield house.
Time: 0'10
13) ATV: When George tries to move the table there's a fade to the next scene: Betty strides through the hall to answer a telephone call.
US TVM: George actually moves the table. Cut to next scene: Betty does some cleaning in the hall. Sound of a hammer. Marty appears, kisses her.
Marty: Morning.
Betty: Morning Marty.
Marty: Just taking the car into town. Won't be long. – Why, what is he up to down there?
Betty: He won't let me in on it, either.
Marty: So long as he's happy. Bye-bye! (Exits, phone rings.)
Time: 0'24

Total extra time: 2'11" / one shot not included in US TVM.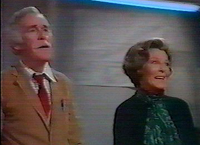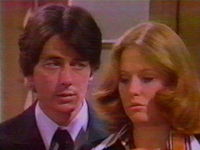 Cast:
Skye Aubrey (Grace Worth), John Nolan (Marty Fuller), Faith Brook (Betty Cornfield), Denise Buckley (Sheila Howes), Richard Vernon (George Cornfield), Derek Anders (Sgt. O'Hara), Christopher Benjamin (Medical Officer), Anne Robson (Mrs Howes), John Garvin (Mr Howes), Robert Marsh (Military Policeman).
Crew*:
Wardrobe Supervisor Kaye Conry-Halley Make-up Supervisor Marion Phillips Film Cameraman Tony Imi Film Editor Tom Rowland Senior Cameraman Mike Whitcutt Sound Director Bill Nuttall Senior Vision Control Gerry Taylor VTR Editor Al Pigden Music Supervisor Paul Clay Music Laurie Johnson Lighting Director Jimmy Boyers Designer Ken Wheatley Floor Manager Jeremy Van Bunnens Vision Mixer Moyra Bird Administrator Ron Brown Production Secretary (uncredited) Production Assistant Joan Reader Executive Producer (uncredited).

*re-assembled from available on-screen credits

This is an unofficial and non-commercial website. The rights to Thriller are held by Carlton Television. The sole purpose of this page is to promote the abovementioned series - no copyright infringement is intended.