THRILLER
---
Episode 20: DEATH TO SISTER MARY
Written by Brian Clemens
Produced by John Sichel
Directed by Robert D. Cardona
(tx date June 15, 1974)
US: Murder Is a One-Act Play
fl: Zuster Mary Moet Eraan
fr: La mort pour soeur Marie Mr Rook is an avid fan of the Saints and Sinners soap opera. His inability to differentiate between fiction and reality leads to violence and death.
The person who compiled the credits must be Mr Rook's brother ...

Der Einzelgänger Rook lebt vollkommen in der Welt von "Saints and Sinners", einer Fernsehserie über das Leben im Kloster. Seine blinde Verehrung für "Sister Mary" treibt ihn dazu, im wirklichen Leben sämtliches Ungemach von der Schauspielerin Penny Stacey abhalten zu wollen.
Eher unauffällig. Jennie Linden und George Maharis tun sich nicht sehr hervor, aber ihre Rollen gestatten dies auch nicht.
Rating: ***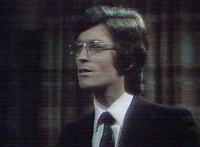 Cast:
Robert Powell (Rook), Jennie Linden (Sister Mary/Penny Stacey), George Maharis (Mark Fields), Anthony Newlands (Tony Barton), Joan Haythorne (Mother Superior), Derek Fowlds (Dicky), Leigh Lawson (Larry Turner), Gerry Cowan (TV Director), Windsor Davies (Detective Moore), Norman Mitchell (Security Man), Jill Shakespeare (Operator), Maggie Rennie (Housekeeper).
Crew:
Wardrobe Supervisor James Dark Make-up Supervisor Shirley Muslin Film Cameraman Tony Imi Film Editor Tom Rowland Senior Cameraman Mike Whitcutt Sound Director Bob Woodhouse Senior Vision Control (uncredited) VTR Editor (uncredited) Music Coordinator Paul Clay Music Laurie Johnson Lighting Director Alistair Morrison Designer Stanley Mills Production Manager Brian Smith Assistant Production Manager Richard Jones Stage Manager Anne Clark Vision Mixer (uncredited) Administrator (uncredited) Production Secretary (uncredited) Production Assistant Paula Burdon Executive Producer Cecil Clarke.

This is an unofficial and non-commercial website. The rights to Thriller are held by Carlton Television. The sole purpose of this page is to promote the abovementioned series - no copyright infringement is intended.