THRILLER
---
Episode 19: I'M THE GIRL HE WANTS TO KILL
Written by Brian Clemens
Produced by John Sichel
Directed by Shaun O'Riordan
(tx date June 8, 1974)
Ger: Mord im Hochhaus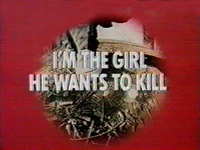 A serial murderer is on the loose, and hapless American Ann Rogers has seen his face. When they meet again the killer decides to silence her once and for all.

Die Amerikanerin Ann Rogers, die in einem Londoner Bürogebäude arbeitet, sieht durch Zufall das Gesicht des Frauenmörders, der die Stadt unsicher macht. Dieser bemerkt seinen Fehler und setzt alles daran, die Zeugin auszuschalten.
Besteht auch bei wiederholtem Sehen sehr gut.
Rating: ****+

Barry reports that the NTSC version contains several extended scenes:
"There is one major extra scene where Mark takes Anne home after her initial questioning. He flirts with her, makes his interest in her plain and cracks a few jokes at the expense of the policeman guarding her flat. Goes about 90 seconds. There are some other scenes that go on a bit longer, such as when her boss says to Sam "Do you envy me?" he goes on to waffle about success being a treadmill, with a terrific nonplussed look from Ken Jones."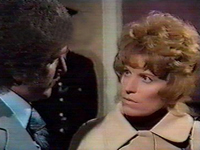 Cast:
Julie Sommars (Ann Rogers), Robert Lang (The Man), Anthony Steel (Mr Burton), Tony Selby (Mark), Trisha Hooker (Young Woman), Ken Jones (Sam), Geoffrey Whitehead (Keston), Susan Tracy (Telephonist), Colin Haig (Messenger Boy), Annette Woollett (Penny), Patrick Connor (Freddy), Robert Oates (Policeman).
Crew*:
Wardrobe Supervisor Stuart Currell Make-up Supervisor Shirley Muslin Film Cameraman Dick Bayley Film Editor Mike Nunn Senior Cameraman Dennis Bartlett Sound Director Ted Scott Senior Vision Control Gerry Taylor VTR Editor Al Pigden Music Coordinator Paul Clay Music Laurie Johnson Lighting Director Tony Hudspith Designer (uncredited) Floor Manager Pat Richardson Vision Mixer Mary Forrest Administrator Ron Brown Production Secretary (uncredited) Production Assistant Joan Reader Executive Producer (uncredited).

*re-assembled from available on-screen credits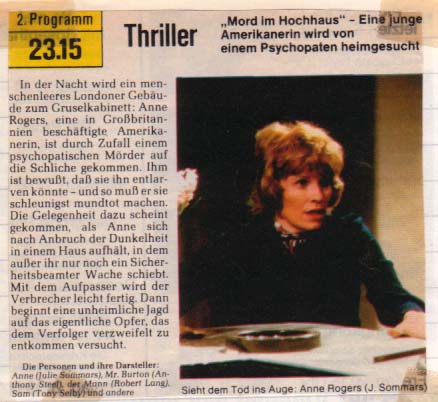 German TV listing from 1982 - (c) TV Hören und Sehen

German TV listing from 1982 - (c) Hörzu
This is an unofficial and non-commercial website. The rights to Thriller are held by Carlton Television. The sole purpose of this page is to promote the abovementioned series - no copyright infringement is intended.