THRILLER
---
Episode 18: A COFFIN FOR THE BRIDE
Written by Brian Clemens
Produced and directed by John Sichel
(tx date June 1, 1974)
US: Kiss, Kiss, Kill, Kill
Ger: Ein Sarg für die Braut
fr: Un tombeau pour la mariée Mark Walker marries women - and kills them. He's apparently too clever for the police. Nonetheless he manages to get himself into trouble.

Mark Walker hat sich einen cleveren Plan ausgedacht, um reich zu werden: Er heiratet wohlhabende Frauen, um sie dann schnellstmöglich im Zuge eines "Unfalls" zu beseitigen. Er erregt jedoch den Verdacht von Anwalt Oliver Mason.
A Coffin for the Bride zeichnet sich durch ein besonders intelligentes Buch aus. Die Darstellungskunst von Helen Mirren ist beeindruckend.
Rating: ****+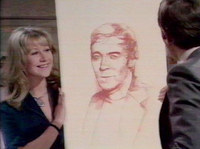 Cast:
Michael Jayston (Mark Walker), Helen Mirren (Stella), Michael Gwynn (Oliver Mason), Richard Coleman (Weston), Margaret Courtenay (Claire), Josephine Tewson (Yvonne), Arthur English (Freddy), Tony Steedman (Detective Quilly), Marcia Fox (Connie), Hugh Morton (Judge), Richard Hampton (Sergeant Miles), Jeffrey Taylor (Warder), Peter MacKriel (Porter), Mark Rodbert (Young Lad).
Crew*:
Wardrobe Supervisor Christine Wilson Make-up Supervisor Sheila Mann Film Cameraman Tony Imi Film Editor Tom Rowland Senior Cameraman Mike Whitcutt Sound Directors Bob Woodhouse Len Penfold Senior Vision Control (uncredited) VTR Editor (uncredited) Music Coordinator Paul Clay Music Laurie Johnson Lighting Director Richard Stone Designer Ken Wheatley Senior Floor Manager Brian Smith Floor Manager Geoffrey Sax Production Manager Paul Harrison Production Assistant Paula Burdon.

*re-assembled from available on-screen credits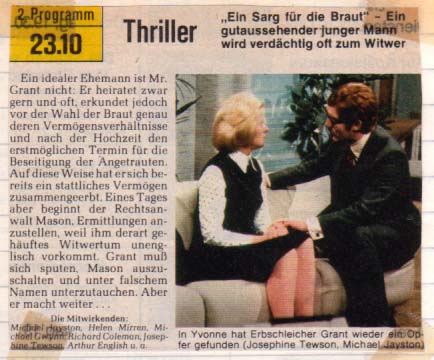 German TV listing from 1982 - (c) TV Hören und Sehen
German TV listing from 1982 - (c) Hörzu
This is an unofficial and non-commercial website. The rights to Thriller are held by Carlton Television. The sole purpose of this page is to promote the abovementioned series - no copyright infringement is intended.