THRILLER
---
Episode 14: ONE DEADLY OWNER
Written by Brian Clemens
Produced by John Sichel
Directed by Ian Fordyce
(tx date February 16, 1974)
fl: Rijdende Doodskist
fr: Moyen de transport particulier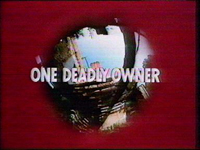 Model Helen Cook falls in love — with a limousine! She buys the enormously expensive car and discovers that it has a life of its own.

Das Model Helen Cook wird unwiderstehlich angezogen von einer Limousine. Sie erwirbt das gute Stück und entdeckt, daß es ein Eigenleben zu haben scheint.
Donna Mills diesmal als Amateurdetektivin. Die Geschichte ist ein wenig bemühter als sonst, man wird jedoch durch die wahrlich verblüffende Auflösung mehr als entschädigt. In der PAL-TVM-Fassung ist die Original-Pre-Title-Sequence nicht enthalten.
Rating: ****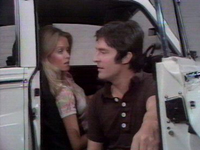 Cast:
Donna Mills (Helen Cook), Jeremy Brett (Peter Tower), Robert Morris (Freddy Green), Laurence Payne (John Jacey), Eric Lander (Hans), Michael Beint (Hawkins), Anthony Dawes (Car Salesman), Bob Holness (Announcer), Roy Marioni (Waiter).
Crew*:
Wardrobe Supervisor Kaye Conry-Halley Make-up Supervisor Shirley Muslin Film Cameraman Dick Bayley Film Editor Tom Rowland Senior Cameraman Dennis Bartlett Sound Director Bob Woodhouse Senior Vision Control Jay Brown VTR Editor John Hawkins Music Supervisor (uncredited) Music Laurie Johnson Lighting Director Phil Hawkes Designer Roger Allan Stage Manager Mari Markus Vision Mixer Felicity Maton Administrator Ron Brown Production Secretary (uncredited) Production Assistant Sheila Lauder Executive Producer (uncredited).

*re-assembled from available on-screen credits

This is an unofficial and non-commercial website. The rights to Thriller are held by Carlton Television. The sole purpose of this page is to promote the abovementioned series - no copyright infringement is intended.