THRILLER
---
Episode 1: LADY KILLER
Written by Brian Clemens
Produced by John Sichel
Directed by Bill Hays
(tx date April 14, 1973)
US: The Death Policy
Ger: Die zweite Frau
fr: Mariage d'amour Good-looking Paul Tanner takes the naive Jenny Frith by storm. After their marriage she discovers that his affection is not what it seemed to be.
One of the best. Much indebted to, especially, Suspicion and Rebecca.
In a recently published interview for the magazine Action TV Linda Thorson told Martin Gainsford and Jaz Wiseman: "We filmed part of it down in Sussex and I remember we had the most incredible time as it snowed for about three days and we ended up staying in a local pub because we couldn't shoot the exteriors. As I recall Thriller was a very good series and Brian was quite involved in it." (Issue 8 p.7)
The romantic clarinet theme which can also be heard in In the Steps of a Dead Man features - maybe a little too often.

Der Taugenichts Paul Tanner buhlt heftig um die Gunst der etwas weltfremden Jenny Frith – mit Erfolg. Die beiden heiraten kurzerhand. Jenny bemerkt allerdings, daß Pauls Benehmen manchmal sonderbar ist. Dann sorgt der Besuch von Jack Hardisty, der sich als Freund Pauls vorstellt, für weitere Aufregung.
Ein sehr guter, raffinierter Opener, obwohl man Feldons Rolle 30 Jahre später mit einigem Stirnrunzeln quittieren muß. Die deutsche Stimme von Powell ist Lutz Mackensy.
Rating: ****
Cast:
Robert Powell (Paul Tanner), Barbara Feldon (Jenny Frith), Linda Thorson (Toni Tanner), T P McKenna (Jack Hardisty), Mary Wimbush (Mrs Bradley), John Boswall (Old Man), Ivor Roberts (Doctor), Howard Rawlinson (Hotel Clerk), Ronald Mayer (Minister), David Billa (Waiter).
Note: Feldon received top billing in the US.
Crew*:
Wardrobe Supervisor Sue Lecash Make-up Supervisor Dianne Joyce Film Cameraman (uncredited) Film Editor (uncredited) Senior Cameraman Roy Simper Sound Director Bob Woodhouse Senior Vision Control Jim Reeves VTR Editor (uncredited) Music Coordinator (uncredited) Music Laurie Johnson Lighting Director Dickie Stelp Designer Bryan Holgate Senior Floor Manager (uncredited) Floor Manager (uncredited) Stage Manager Sue Palmer Vision Mixer Moyra Bird Administrator Ron Brown Production Secretary (uncredited) Production Assistant Susan Paul Executive Producer Cecil Clarke.

*re-assembled from available on-screen credits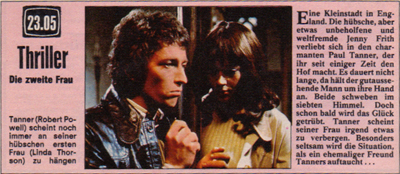 German TV listing from 1980 - (c) Hörzu
This is an unofficial and non-commercial website. The rights to Thriller are held by Carlton Television. The sole purpose of this page is to promote the abovementioned series - no copyright infringement is intended.