THRILLER
---
Episode 35: THE NEXT VOICE YOU SEE
Written by Terence Feely
Story by Brian Clemens
Produced by Ian Fordyce
Directed by Robert Tronson
(tx date May 17, 1975)
US: Look Back in Darkness
fr: La prochaine voix que vous verrez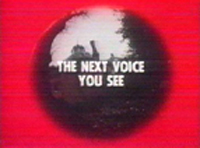 Popular pianist Stan Kay loses his wife and his eyesight in a bank robbery that goes sour. Years later, entertaining party guests in Sir Peter's house, he recognizes the killer's voice.
This episode is unique with regard to its handling of the location shooting: the introductory scene was made by an OB unit. There is at least one – filmed - establishing shot after that.

Der bekannte Pianist Stan Kay und seine Frau werden Opfer eines Banküberfalls. Susie stirbt, Stan erblindet. Jahre später, er hat den Schicksalsschlag mit Hilfe seiner Kunst verarbeiten können, holt ihn die Vergangenheit ein. Bei einer Privatveranstaltung im Haus von Sir Peter Hastings erkennt er die Stimme des Mannes, der den tödlichen Schuß auf Susie abfeuerte.
Der Blinden-Plot aus The Eyes Have It hat Clemens (verständlicherweise) so gut gefallen, daß er ihn für The Next Voice You See nochmals aufbereiten ließ. Das Ergebnis ist immer noch beachtlich, aber der Schwachpunkt ist das overacting des Bradford Dillman. Der Vergleich ist vielleicht nicht fair, aber Waterman/Cusack sind nicht zu toppen.
Einige clevere Ideen knüpfen an die Genialität des Vorgängers an. Die Erkennungsszene mit der Pianoeinlage ist eine prima Idee, richtig kinohaft, zumal man mit dem Performance-Versager zittert, eine Sympathielenkung auf hohem Niveau, deren Funktionieren sicherstellt, daß uns Kay nicht gleichgültig ist. Die Kamera auf den Schuhen des Mörders erinnert (sinnigerweise) an Blind Terror. Im Unterschied zu The Eyes Have It teilen wir diesmal den Wissensstand des Protagonisten. Der Keller ist nicht nur gewohnheitsmäßig schön anzuschauen, sondern auch von entscheidender Bedeutung bei der Überrumpelungstaktik des Killers. Die Schell-Rolle ist eigentlich ein besserer Blindenstock, aber eine Persönlichkeit vermag, wie man sieht, auch dies auszufüllen. Smith hat die (Mullard-)Rolle des recht schnell wegfallenden Sicherheitsfaktors. Sie ist nicht übel, zumal sie in der Auflösung noch eine Rolle spielt, aber weniger spektakulär und effektiv.
Rating: ****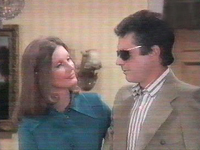 Cast:
Bradford Dillman (Stan Kay), Catherine Schell (Julie), Geoffrey Chater (Sir Peter Hastings), Ray Smith (Ben Tamplin), Terence Sewards (Alan Richards), Nigel Havers (Ludovic Bates), Rachel Davies (Nancy), Neil Hallett (John Pelham), John Oxley (Robert Carroll), Annette Lynton (Claudia Hastings), Ian Redford (James Townsend), Roger Mutton (Jeremy), Peter Geddis (Jameson), Holly Palance (Susie Kay), John Forbes-Robertson (Dr Mace), Robert Lankesheer (Foster), Stan Tracey (Pianist), Celia Foxe Anthea Holloway Paddy Glynn Hedger Wallace William Wilde Eilian Wyn (Party Guests).
Crew*:
Wardrobe Supervisor Dawn Evans Make-up Supervisor Dianne Joyce Film Cameraman Tony Mander Film Editor Stanley Staffe Senior Cameraman Roy Simper Sound Director Bob Woodhouse Senior Vision Control John Willment VTR Editor Al Pigden Music Coordinator Paul Clay Music Laurie Johnson Lighting Director Selwyn Harper Designer Richard Lake Senior Floor Manager Sean O'Farrell Floor Manager Paul Harrison Stage Manager Gordon Roberts Vision Mixer (uncredited) Administrator (uncredited) Production Secretary Jenifer Blackden Production Assistant Gillian Moncrieff Executive Producer (uncredited).

*re-assembled from available on-screen credits

This is an unofficial and non-commercial website. The rights to Thriller are held by Carlton Television. The sole purpose of this page is to promote the abovementioned series - no copyright infringement is intended.