THRILLER
---
Episode 31: THE DOUBLE KILL
Written by Brian Clemens
Produced and directed by Ian Fordyce
(tx date April 19, 1975)
fr: Double meurtre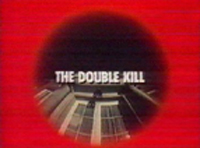 Gambling man Hugh Briant hires burglar Max Burns to kill his wife while he is away at a game of poker. When Hugh returns to the scene of the crime he is in for a surprise.
Another top-quality episode in the 'clever murderer' vein of Lady Killer.

Der Spieler Hugh Briant heuert Einbrecher Max Burns an, um Mrs Briant aus dem Weg zu räumen. Hugh verschafft sich ein sicheres Alibi – und erlebt eine Überraschung, als er zum Tatort zurückkehrt.
Rating: ****+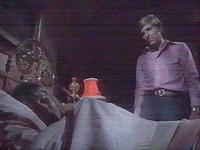 Cast:
Gary Collins (Hugh Briant), James Villiers (Paul), Peter Bowles (Superintendent Lucas), Stuart Wilson (Max Burns), Penelope Horner (Clorissa Briant), John Flanagan (Michael Player), Hilda Fenemore (Mrs Harper), Griffith Davies (The Burglar), Michael Stainton (Brent), Gordon Salkilld (Fingerprint Man), Norman Mitchell (First Man in Pub), Paul Nicholson (Second Man in Pub).
Crew:
Wardrobe Supervisor Dawn Evans Make-up Supervisor Shirley Muslin Film Cameraman Tony Mander Film Editor Stanley Staffe Senior Cameraman Geoff Joyce Sound Director Bob Woodhouse Senior Vision Control John Willment VTR Editor Al Pigden Music Supervisor Paul Clay Music Laurie Johnson Lighting Director Tony Hudspith Designer Anthony Waller Floor Manager Trevor Lowndes Assistant Floor Manager Mark Willis Stage Manager Mari Markus Administrator Ron Brown Production Secretary Jenifer Blackden Production Assistant Gillian Moncrieff.

This is an unofficial and non-commercial website. The rights to Thriller are held by Carlton Television. The sole purpose of this page is to promote the abovementioned series - no copyright infringement is intended.