THRILLER
---
Episode 26: NIGHT IS THE TIME FOR KILLING
Written by Brian Clemens
Produced and directed by John Cooper
(tx date January 18, 1975)
US: Murder on the Midnight Express
Ger: Der Tod kam in der Nacht
fr: La nuit est fatale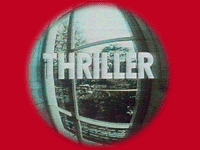 Helen Marlow has just about recovered from a nervous breakdown when she encounters a colourful bunch of spies and counterspies on a train.

Eigentlich wollte sich Helen Marlow von den Folgen eines Nervenzusammenbruchs erholen. Doch sie reist mit jenem Nachtzug, in dem Agenten einen Krieg ausfechten. Welche Rollen spielen der snobistische Hilary Vance, der joviale Bob Mallory, das frisch verheiratete Brautpaar und der "Wachhund" Barkly?
Night Is the Time for Killing hat wegen Plot und Setting schon verloren, die Rollen hat man schon besser gesehen. Judy Geeson kann nicht mithalten mit Robyn Millan und Pamela Franklin; Jim Smilie ist Francis Wallis oder Michael Kitchen unterlegen. Grays Figur ist gut gemeint, aber etwas aufgesetzt.
Rating: **+
Cast:
Judy Geeson (Helen Marlow), Charles Gray (Hilary Vance), Jim Smilie (Bob Malory), Jeffry Wickham (Parker), Edward Burnham (Minister), Anthony Nash (General), Jackie Piper (Bride), Duncan Preston (Groom), Milos Kirek (Ivan Malov), Alister Williams (Barkly), Robert MacLeod (Henry Marlow), Reg Pritchard (Attendant), Aimée Delamain (Penelope), Bill Horsley (Waiter).
Crew:
Wardrobe Supervisor Sheelagh Killeen Make-up Supervisor Dianne Joyce Film Cameraman Tony Mander Film Editor Tom Rowland Senior Cameraman Mike Whitcutt Sound Director Bob Woodhouse Senior Vision Control John Willment VTR Editor Al Pigden Music Supervisor (uncredited) Music Laurie Johnson Lighting Director Pete Dyson Designer Lewis Logan Floor Manager Sean O'Farrell Vision Mixer Mary Forrest Administrator Ron Brown Production Secretary (uncredited) Production Assistant Glenys Collins Executive Producer (uncredited).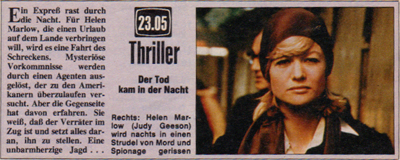 German TV listing from 1980 - (c) Hörzu
This is an unofficial and non-commercial website. The rights to Thriller are held by Carlton Television. The sole purpose of this page is to promote the abovementioned series - no copyright infringement is intended.