THRILLER
---
Episode 12: ONCE THE KILLING STARTS
Written by Brian Clemens
Produced by John Sichel
Directed by John Scholz-Conway
(tx date February 2, 1974)
fr: Dans l'engrenage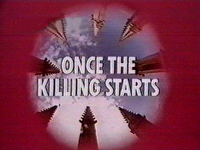 Academic Michael Lane kills his wife because he's in love with one of his students, Stella. Suddenly anonymous letters turn up – accusing Michael of murder.

Professor Michael Lane ermordet seine Frau, da er sich in eine seiner Studentinnen, Stella, verliebt hat. Die Polizei scheint keinen Verdacht zu schöpfen, doch plötzlich tauchen anonyme Briefe auf, die Michael des Mordes bezichtigen.
Rating: ***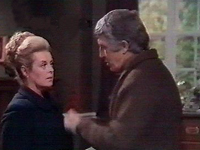 Cast:
Patrick O'Neal (Michael Lane), Angharad Rees (Stella Mason), Michael Kitchen (George Newton), Gerald Sim (Peterson), Gary Watson (Inspector Rush), Patricia Donahue (Elizabeth Lane), Terry Wright (Det. Constable Waters).
Crew*:
Wardrobe Supervisor Sheelagh Killeen Make-up Supervisor Marie Roche Film Cameraman Mike Boultbee Film Editor Tom Rowland Senior Cameraman Dennis Bartlett Sound Director Len Penfold Senior Vision Control Jim Reeves VTR Editor Al Pigden Music Coordinator Paul Clay Music Laurie Johnson Lighting Director Alistair Morrison Designer Bryan Holgate Floor Manager Brian Smith Vision Mixer Moyra Bird Administrator Ron Brown Production Secretary (uncredited) Production Assistant Jane Mullard Executive Producer (uncredited).

*re-assembled from available on-screen credits

This is an unofficial and non-commercial website. The rights to Thriller are held by Carlton Television. The sole purpose of this page is to promote the abovementioned series - no copyright infringement is intended.