THRILLER
---
Episode 9: THE EYES HAVE IT
Written by Terence Feely
Story by Brian Clemens
Produced by John Sichel
Directed by Shaun O'Riordan
(tx date June 9, 1973)
Ger: Die geschlossenen Augen
fr: Les aveugles ont des yeux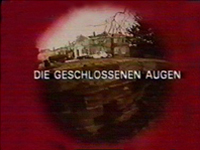 Nach einer Anatomiestunde erhält Dr George Mullard, Dozent an einer Schule für blinde Medizinstudenten, Besuch von einem Fremden. Dieser vergewissert sich, daß Mullard alleine mit den Studenten ist, und bringt ihn um. Der Mörder, Anderson, und seine Begleiter Jeffries und Moore begeben sich ins obere Stockwerk und bereiten sich auf ihre Weise auf einen Staatsbesuch vor.
The Eyes Have It besticht in vierfacher Hinsicht. Unvergeßliche Rollen (Frank, Sally, die Killer), Top-Kulissen (Keller, Raum mit Speiseaufzug, Foyer, Uuml;bungsraum), Plot (Auftragsmörder stürmen Blindenschule, wahre Fülle von Suspense-Szenen, die von der Vorinformiertheit der Zuschauer leben - hier kommt eine Ebene hinzu, da fiktive Figuren zumindest gewöhnlich SEHEN) und Darsteller (perfekt und charismatisch: Cusack und Vaughan). Positiv und spannungssteigernd wirkt sich auch die annähernde Kongruenz von Erzählzeit und erzählter Zeit aus. Das Ende ist ein Musterbeispiel für dramatische Ironie.
Das Plot-Element der körperlichen Behinderung der Protagonisten geht zurück auf The Spiral Staircase und später Wait Until Dark.
Rating: *****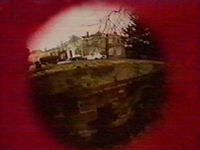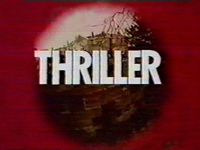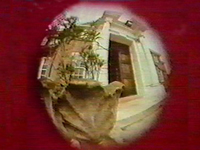 Cast:
Peter Vaughan (Anderson), Dennis Waterman (Frank), William Marlowe (Jeffries), Sinead Cusack (Sally), Leslie Schofield (Moore), David Jackson (Martin), Michael Lees (George Mullard), Alun Armstrong (Mike), Colin McCormack (Peter), Catherine Chase (Jenny), Angela Walker (Pat), David Sands (Tom).
Crew*:
Wardrobe Supervisor Ann Hollowood Make-up Supervisor Marie Roche Film Cameraman (uncredited) (Editor) Glen Cardno Senior Cameraman Roy Simper Sound Director Bob Woodhouse Senior Vision Control (uncredited) VTR Editor (uncredited) Music Coordinator (Paul Clay - uncredited) Music Laurie Johnson Lighting Director Jimmy Boyers Designer Stanley Mills Stage Manager Paul Harrison Vision Mixer (uncredited) Administrator (uncredited) Production Secretary (uncredited) Production Assistant Joan Reader Executive Producer Cecil Clarke.

*re-assembled from available on-screen credits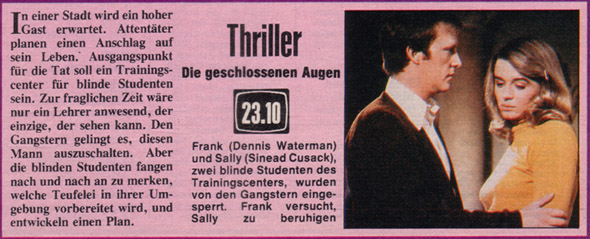 German TV listing from 1980 - (c) Hörzu
This is an unofficial and non-commercial website. The rights to Thriller are held by Carlton Television. The sole purpose of this page is to promote the abovementioned series - no copyright infringement is intended.