THRILLER
---
Episode 3: SOMEONE AT THE TOP OF THE STAIRS
Written by Brian Clemens
Produced and directed by John Sichel
(tx date April 28, 1973)
Ger: Das schwarze Haus
fr: En haut de l'escalier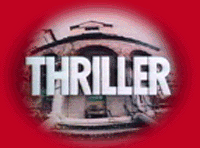 When students Chrissie and Gillian rent a room in a house inhabited by tenants whose behaviour is nothing short of weird they are about to discover a deadly secret.
According to Ian Kerr this is based on an unfilmed screenplay entitled The House on Hammer Hill, written by Clemens in the early 1970s.

Chrissie und Judy, zwei Studentinnen, finden eine preiswerte Unterkunft im Haus von Mrs Oxhey. Das anfängliche Glücksgefühl weicht jedoch bald Ernüchterung. Die übrigen Hausbewohner pflegen eine eigenartige Diktion, Unterwäsche verschwindet, und Chrissie wird von einem Nachwuchsvoyeur im Badezimmer beobachtet. Völlig entnervt beschließt Chrissie, das Domizil zu wechseln, doch es ist zu spät: Aus diesem Alptraum gibt es kein Entrinnen mehr.
Die Klasse von Someone at the Top of the Stairs ist nur schwer in Worte zu fassen. Es ist absolut alles vorhanden, was diese Serie auszeichnet: ein fantastischer Schauplatz, mysteriöse Nebenfiguren und eine noch viel mysteriösere Handlung. Die Auflösung hat ein paar kleine Tücken, aber aufgrund der ersten Stunde ist Someone einfach über jede Kritik erhaben.
Deutsche Stimme von Donna Mills ist Susanne Beck.
Rating: ****+
Cast:
Donna Mills (Chrissie Morton), Judy Carne (Gillian Pemberton), David DeKeyser (Cartney), Francis Wallis (Gary Masters), Alethea Charlton (Mrs Oxhey), Brian McGarth (Elgar), Peter Cellier (Colonel Wright), Clifford Parrish (Thurston), Scott Forbes (Mr Patrick), Rhoda Lewis (Emma Patrick), Alan Roberto (Jonathan Patrick), Laura Collins (Sally Thurston), Robert Corbet (Chauffeur), Charles Hill (Policeman).
Crew*:
Wardrobe Supervisor Dawn Evans Make-up Supervisor Sheila Mann Film Cameraman Tony Mander Film Editor Tom Rowland Senior Cameraman Mike Whitcutt Sound Director Bob Woodhouse Senior Vision Control (uncredited) VTR Editor Al Pigden Music Coordinator (uncredited) Music Laurie Johnson Lighting Director (uncredited) Designer Anthony Waller Floor Manager Jeremy Van Bunnens Vision Mixer Moyra Bird Administrator Ron Brown Production Assistant Joan Reader Executive Producer Cecil Clarke.

*re-assembled from available on-screen credits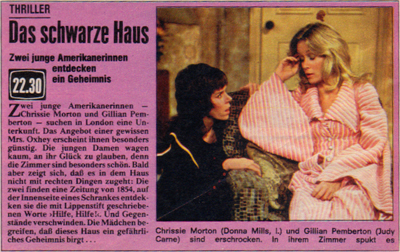 German TV listing from 1979 - (c) Hörzu
This is an unofficial and non-commercial website. The rights to Thriller are held by Carlton Television. The sole purpose of this page is to promote the abovementioned series - no copyright infringement is intended.