THE ENIGMA FILES
---
Episode 8: GUNPOWDER PLOT
Written by Derek Ingrey
Directed by Vere Lorrimer
(Original tx 03.06.80)
GERMAN: Der Überfall Inside the strong room of the Prisoner's Property Office, a consignment of stolen bullion. Outside, a determined gang with a plan to heist it. (Radio Times summary)
This episode seems to be something like a conclusion for the first batch (Mughan and Spiro appearing for the last time). Apparently Ingrey was asked to write some more after that.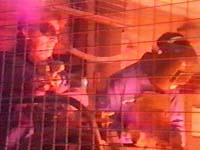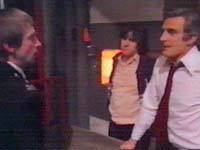 Cast:
William Gaunt (Mike-Maestro) Paul Antrim (Charlie-Callboy) Steven Barnes (Si-Scavenger) Tommy Wright (Harry-Airline) Willie Jonah (Bert-Blowtorch) Michael Ripper (Ray) Mark Burdis (Boy) Anna Hayes (Girl)
Crew:
Photography Ian Hilton Designer Rochelle Selwyn Music by Anthony Isaac Produced by Joe Waters


---