THE STREETS OF SAN FRANCISCO
(dt: Die Straßen von San Francisco)
---
... dominated German screens for a decade (1974-84). The series is a US television classic which can now be re-experienced via DVD (forget the poor dubbed versions which circulate on channels you've never heard of).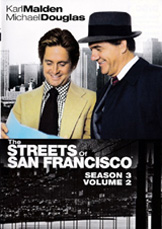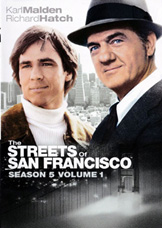 (Note: Series 3 to 5 are available on Region 1 discs only. They can be obtained on amazon.com, amazon.de etc.)

The good people who devoted their time to paying tribute to this excellent show deserve a nod. Firstly, there are two paperback books:

"Quinn Martin, Producer"
by Jonathan Etter (McFarland, 2003)
(available via amazon.com, amazon.de etc.)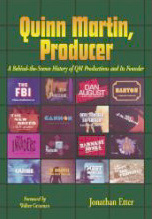 "The Streets of San Francisco - A Quinn Martin TV Series"
by James Rosin (Autumn Road Company, 2011)
(the only way for European customers to obtain a copy is to buy directly from the publisher)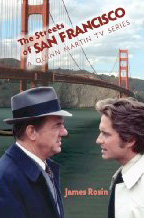 Etter was born in 1961 and dedicates his work to his father, "who got me interested in classic television and films all those years ago". Director Walter Grauman provides the foreword, Etter then submits c.20 interview-based chapters on Martin productions. SOSF is discussed on 13 pages.

Rosin, himself a TV writer (and thus an industry insider) has put together a kind of series "manual", providing a 44-page interview-based background on the series, photo sections (a combination of press stills, behind-the-scenes photos and DVD grabs), production documents and story outlines, episode lists and biographies.

In a nutshell, Etter focuses on the directing, Rosin on writing and pre-production aspects. The two books complement each other extremely well. They are not cheap but worth every penny.

Holding up the series banner on the internet is Daniel Gonzalo Fischer.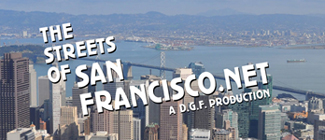 http://www.thestreetsofsanfrancisco.net is a well-designed English language site which offers information on characters and locations, episodes screencaps, videos and web resource links, and a press photo gallery (for those unfamiliar with the subject: TV press photos are rare and usually expensive).