SWEENEY! THE OFFICIAL COMPANION
---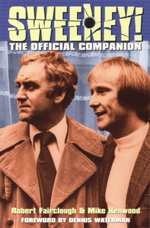 © Reynolds & Hearn Ltd., 2002
Much of what is written in Robert Fairclough's and Mike Kenwood's book sounds familiar to those who have read Made for Television: Euston Films which was published by the BFI in 1985 and dealt with the complete output of said production company. However, there are a couple of differences in approach and style between the two. Euston Films, an academic level text, is a hard read occasionally (especially for non-native speakers ...). In contrast to that Sweeney! is a genuine pageturner. Secondly, whereas Euston Films examines only one episode in detail (Abduction) the new book has a detailed episode guide which swallows up more than half of the book. Thirdly, the whole thing has been spiced up with loads of new interview material which is mostly very enlightening. Thankfully, Fairclough and Kenwood share the Alvarado/Stewart approach of explaining the programme via introduction of behind-the-scenes people and production methods.
On to the details. Sweeney! is well structured, first offering detailed portraits of the leading men, then a rundown of British TV cop shows prior to The Sweeney. The influence of three seminal cinematic releases (Get Carter!, Dirty Harry, French Connection) is discussed, followed by an examination of aesthetics: How Euston came to adopt a style which had been pioneered by Mike Hodges, the departure from videotape etc. This is integrated into the history of Euston Films. The making of the pilot Regan is dealt with in an extra chapter, with great emphasis on the creative differences between Ted Childs and Ian Kennedy Martin which led to the departure of the latter. This part of the book is particularly excellent because it offers new details and more insights, shedding light on the roles of Lloyd Shirley, Douglas Camfield and George Markstein respectively. In sum, all aspects of the Sweeney genesis are there, which makes the book a must-read already.
The episode and movie guide includes a special introduction to each series, a summary of the episode content, paragraphs on guest stars and remarkable dialogue, Shut It!-style, followed by a comments/behind-the-scenes section, which in some instances is extended to content analysis. Intriguing observations made in the case of, say, Sweet Smell of Succession, are important because they prove that The Sweeney is not only a popular but a good quality programme. It may be a matter of taste but this reviewer would have hoped to find a few more academic insights, James Donald-style, but then the book was designed for a wider audience.
The final chapter, "More Policing", on The Sweeney's influence on other series is an absolute delight because it includes a couple of pages on the rarely seen (and much revered) Target, much less though on the equally elusive Strangers. It's priceless, and it makes you positively want to research what else is out there. Appendices include the Sweeney format (which was in Euston Films already) and Sweeney merchandise. The index is very good, the bibliography could have been more detailed.
On the down side there's ... nothing really! Except that one would have wished for pics of all those brilliant people, i.e. Tom Clegg, Ray Jenkins, Ted Childs, David Wickes etc. They could be added for the second edition.
All in all a wonderful achievement, and I'll buy anything written by these two guys in the future. Give your friends and family a REAL treat and make this book a Christmas/spring/birthday present - whatever. Keep it right on top of your TV set so that it is readily available when you watch the DVDs.

Below are some pictures from the official book launch: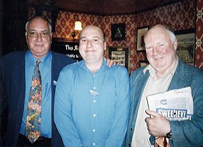 Photos provided by Jaz Wiseman and used courtesy of the Action TV website (http://www.actiontv.org.co.uk) - many thanks to Andrew Screen.
Left (l to r): Chris Burt, Mike Kenwood, Troy Kennedy Martin. Centre: Bill Westley, Peter Brayham, Robert Fairclough, Mike Kenwood. Right: Ted Childs, Tom Clegg.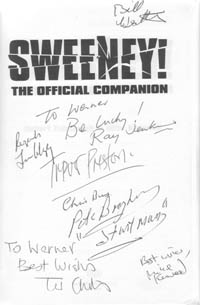 Copy signed by Peter Brayham, Chris Burt, Ted Childs, Tom Clegg, Ray Jenkins, Mike Kenwood, Trevor Preston, Bill Westley. A big thanks to Mike for making it possible!
Click here to buy:
http://www.amazon.co.uk

Note: The revised and updated edition was published by Titan Books in 2012.