ZOOM IN WHEN YOU SEE THE TEARS
---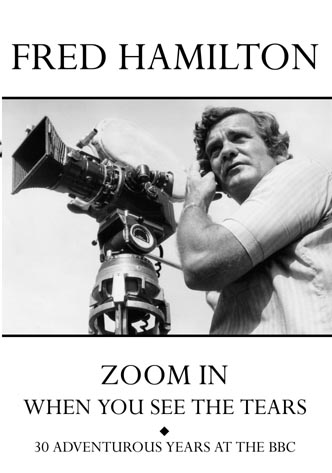 Emigrating to Britain in the 1950s, Fred Hamilton joins the BBC's Film Department where he learns the ropes and quickly gets promoted to Film Cameraman. Coverage of sports events becomes his bread-and-butter job, soon followed by assignments to armed conflict areas in many parts of the world. Obtaining footage to be broadcast on Panorama and other current-affairs programmes under often perilous circumstances, he teams up with reporter James Mossman and recordist Freddy Downton and survives the jungles of Borneo, the battlefields of Vietnam and various Middle East hot spots.
One of his first drama shoots is overshadowed by the death of his father, but drama is where he leaves his major footprints during the years to come: in 1967 he shoots the location footage for "Enemy of the World", a Doctor Who serial starring Patrick Troughton, on which he works with one of his favourite directors, Barry Letts.
More than a decade later, numerous other Doctor Who serials of the Pertwee/Baker eras are under his belt, as well as a large number of Z Cars and Colditz episodes (including the moving masterpiece "Tweedledum"). When colour television is still in its infancy, Fred films eye-opening sequences for Paul Temple with two other of his favourite directors, Douglas Camfield and Mike Ferguson. Several instalments of the all-film drama-documentary series Explorers follow, and, of course, the police series Target, whose production history is almost as spectacular as the on-screen events depicted. Fred becomes a man for action scenes before the phrase enters BBC vocabulary, always on the lookout for that unusual, extra-dynamic shot.
A team player at work and a loyal family man at home: as well as telling his own story in a humourous, modest and warm-hearted manner, Fred Hamilton also manages to deliver a an exciting and exhilarating history of the BBC 'from below'.


---

Work on this tome was begun in 2006/2007. Initially, we tried to pad out an interview conducted by Ian Greaves on the subject of Fred's Z Cars episodes. Fred, who had also worked on two of my all-time favourite TV series, Paul Temple and Target, seemed to enjoy digging up the past. Due to a previous visit to his home I was aware of his huge collection of behind-the-scenes snapshots. Putting two and two together I suggested compiling an autobiographical text, and despite exhibiting a great deal of modesty he eventually came to like the idea. We worked together for a good four years, constantly exchanging ideas and editing each other's bits and pieces. When we thought we were missing a good picture or anecdote, Fred's friends and colleagues came to the rescue. I want to use this opportunity to thank Ian Punter, Joe Shearer, Gordon Thomas and the late George Gibbings for their help and inspiration.
The final text version - including filmography and index - was spread across 288 pages. C.220 images in black and white were used to lavishly illustrate the book (measurements: 23,5 x 16,5 x 1,7 cm).

ZOOM IN WHEN YOU SEE THE TEARS was released on May 17, 2011 and is available via Fantom Publishing's website: http://www.fantomfilms.co.uk

UK purchase: GBP 12.99
OS purchase: GBP 15.99
It is also available via Amazon.uk (prices differ, 3 customer reviews), Amazon marketplace and eBay.

The first printing which included a card specially signed by the author is now sold out.

ERRATA:

p. 5: Substitute "Schuco" for "Schueco".
p. 119-23, 271: According to BBC documentation made available to me only recently sound assistant / recordist's Ron Keightley's name is spelt with a "t".
Caption p. 124: Substitute "(L to R) George Sewell, Victor Maddern, Stan Swetman, unknown sparks (...)" for the original.
Caption p. 128 : Substitute "(L to R) Stan Swetman, me, Mike Ferguson, Fintan Sheehan, Glyn Edwards." for the original.
p. 159: Substitute 6'2" for 6'2'
p. 169 / 269: Substitute "Lord Chalfont" (Alun Gwynne Jones) for "Lord Davis Chalfont".
p. 254: Further research revealed that Norma Flint did not work on Death of Fasching. The Assistant was Judy Munk (she is actually pictured on p. 118).
Our apologies to Ron, Judy, Glyn and Lord Chalfont.