THE PROFESSIONALS
---
Das Buch zur Serie Die Profis erschien 2006. You can't find it on the publishers new web shop (https://schwarzkopf-verlag.info/) anymore (2019). As this continues to be a non-commercial site, I can't offer you a link to a very commercial seller of books and other things, but you can still try looking in the vast internet.

What follows is a brief history of the book cover.

These two were designed by Christina Padberg in July 2004. Needless to say they are still my favourites. These are just b/w scans; the show logos appeared in colour originally.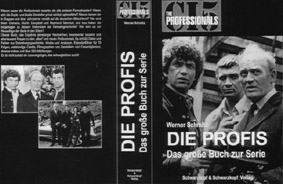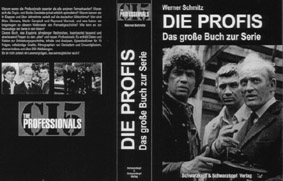 This one was briefly mooted by the publisher at the end of 2005. It was rejected for obvious reasons (see how many cock-ups you can spot!).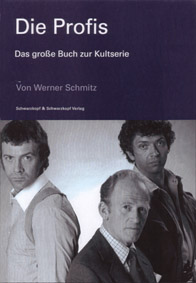 This is the preliminary version which made it into the publisher's Spring 2006 catalogue.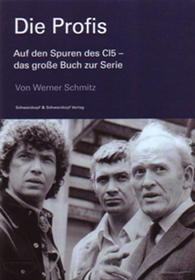 Final colour version slightly modified by the publisher and agreed upon briefly before printing in Mid-July.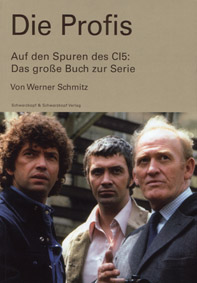 An outline of the contents follows.

Opening the book with a concise history of LWT I move on to explain the "rogue cops" phenomenon of the 1970s, beginning with Dirty Harry and French Connection and relevant American TV shows. This leads into a detailed backgound chapter on British TV cops from Z Cars via The Sweeney to more recent programmes such as Cracker. I then deal with Brian Clemens' previous TV work, the setting up of Mark 1 productions and creating the series format and principal characters. Having covered casting problems and final decisions I move over to biographies of the three leads. A detailed look at the season one/Sidney Hayers era follows; then an equally detailed look at the first Menmuir/O'Hara season, explaining the changes established by the new team and describing all sorts of personnel decisions. An overview of the remaining three seasons is next before I explain how and why the series came to an end and why there were repeat issues due to Martin Shaw's veto.
Chapter three explains camera, editing and narration techniques used in The Professionals as an action series. Chapter four focuses on the content and offers a historical background intro (real-life spies, social unrest, faltering economy etc.) before dealing with the presentation of police work, foreign nationals, women, terrorism and violence in the series.
The following chapters are about censorship (deleted scenes, "creative" dubbing) in Germany and audience reactions/critical reception both in the UK and in Germany respectively. A brief "flashback" essay is next which sums up the previous chapters and poses the question, "Can we love The Professionals without feeling guilty?" The answer, of course, is 'yes' ...
I then discuss all 57 episodes on at least three pages (Operation Susie and No Stone get six, for different reasons: with respect to the first censorship is quite an issue, regarding the second I explain why it is extremely well executed). In addition to a detailed synopsis (which is supposed to give the reader an idea about logic, structure and quality of the story) I include a section about changes applied to the German version and a discussion of what the episode achieves and how it works. Occasionally the latter sections include comments by actors, writers and crew members. For example, Roger Tucker offers an extensive view on Mixed Doubles, we hear about Peter J. Hammond's Heroes experience and share Michael Latimers memories of working on Killer With a Long Arm.
Complete cast and crew lists (including some uncredited parts) follow. After that the Who Dares Wins movie gets a similar treatment, including a detailed comment from the film's producer, Euan Lloyd.
Chapter 9 picks up the threads from chapter two and starts with background information on The New Professionals: series set-up, casting decisions, topical "new millennium" stories. Although this obviously means walking on thin ice, an attempt is made to compare the "old" and the new series. A final statement from David Wickes rounds off this introduction.
After that all 13 episodes get the synopses and analyses treatment described above (minus a censorship section as there was virtually none).
An extensive "Who's Who" appendix lists filmographies of the leads, of prominent guest artists from Steve Alder to David Yip (screenshots from the series are inserted here to facilitate identification), of writers and selected crew members from Dennis Abey to Christopher Wicking (images are included depending on availability).
The book is illustrated with b/w photos throughout, several hundreds in total, and includes a 16-page colour section with stills, publicity shots and behind-the-scenes-photos from various season 1, 2 and 3 episodes, courtesy of Rex Features Limited.

ERRATA:
Buchrückentext: Nach "gut" fehlt ein Komma, bei "Hunderte" wäre Großschreibung erforderlich.
Innere Umschlagseite (hinten): "Noir-Reader" wird nicht mitkursiviert.
Seite 113: Cowley trinkt Whisky, nicht Bourbon.
Seite 155: Sir Derek Forbes wird dargestellt von Pat Ryan.
Seite 215: Den ersten Satz im Abschnitt "Deutsche Fassung" sollte man präziser formulieren. Es gibt schon Hinweise auf Ostdeutschland (z.B. die Zeitungsschlagzeile "East German star visits London"), allerdings kein explizites Erwähnen der DDR im Dialog (Dank an Rudolf Gieger).
Seite 331: Das Bild ist von 2004.
Seite 358: Bildunterschrift fehlt.
Seite 437: In Martin Shaws Filmographie fehlt The Mating Machine.
Seite 517: Der Autor von One Black September (Return of the Saint) ist John Kruse, nicht John Goldsmith (der Fehler ist selbst im Inlay der Network-DVD-Box).
Seite 539: Es fehlt (ganz oben links) der Eintrag HILL STREET BLUES - Polizeirevier Hill Street.
Seite 540: Daves neue bzw. aktuelle Webadresse ist: http://www.mark-1.co.uk
Seite 541: Der Rex-Fotocredit muß lauten: Farbteil 1-11, 12 (unten), 13-16
FEEDBACK
My thanks go to those people who gave it a plug in newspapers and magazines and didn't tear it to bits.
Martin Compart and Birgit Lamerz-Beckschäfer were generous with their praise.
Having said that, German reactions (so far) have been a mixed bag.
I've also read some rubbish comments on the web (where else?). That's the bad thing about democracy ... everybody wants to do reviews, my stupid brother and sister, too.
Oh well, never mind. Let us focus on reactions from abroad, which are a bit more sophisticated and exhibit more wit.

I thank Professionals fans Lisa de Azevedo, Jesper Antvorskov, Tony Buller, Remco Admiraal, Mika Kuroda for their undying support.
Christopher Perry: "(E)xcellent. My German is somewhat shaky but (it seems) very informative."
Darren Giddings: " (A) formidable tome (...) hugely impressive (...) In density alone it is quite an achievement."
Andrew Screen: "(V)ery indepth and thorough ... tremendous - impressed by the amount of photos and the in depth filmographies."
Roger Tucker: "(M)agnificent (..) - quite the best book on a TV series that I have ever seen. Obviously, it was a real labour of love, and surpasses all my expectations. I am amazed at the detail and documentation which you achieved."
William Brayne: "It's probably the best thing since Shakespeare." (note the profound irony!).
Brian Clemens sent this letter: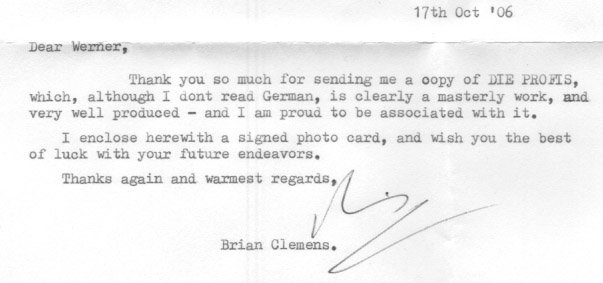 ---
This is an unofficial and non-commercial website. The rights to The Professionals are held by Mark 1 Productions (Brian Clemens & Laurie Johnson). The sole purpose of this page is to promote the abovementioned series - no copyright infringement is intended.