VAN DER VALK
---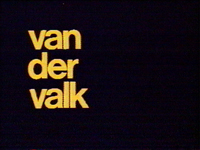 "A splendidly viewer-friendly series" (The Guinness Book of Classic British TV, p. 212)

"Likeable cops and robbers with a 'different' background" (Halliwell's Television Guide, p. 660)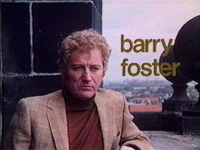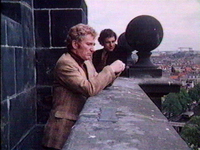 "How can you watch boring stuff like this?" is what l'homme dans la rue is bound to ask after realizing you are into Van der Valk. Calling it compulsive viewing is certainly not as obvious as in the case of action-packed fare like The Sweeney, The Professionals etc. The purpose of this article is to analyse what the series has going for it and to point out why it's such an extraordinary experience to watch it.


AMSTERDAM

Picture 4: amsterdam.jpg

Van der Valk is set in Amsterdam/Holland, for British audiences (and filmmakers?) a rather picturesque place by the look of it. This seems like a nice countryside village instead of a metropolis! (It has to be borne in mind that when Van der Valk started in 1972 it wasn't the time yet of hard-hitting action drama centering around big city crime.) The pre-title sequence of the 1972 series – which also introduces Jack Trombey's smashing theme - shows Barry Foster as Van der Valk overseeing the town from the top of a church tower, about to light one of his cigars, joined by Michael Latimer as Inspector Kroon. In the following season the Commissaris is driven through the streets of Amsterdam in a quite uncharismatic vehicle, a DAF. This title sequence underwent only slight changes for the third season. Van der Valk now drives by himself and switches between the DAF and a Ford (seemingly a must for cops on duty in 1977...), occasionally being recognized and greeted by uniformed policemen and a passer-by. Mildly exotic scenery and mildly exotic people, then, are the first trademark of Van der Valk.

Pictures 5 - 7: latimer.jpg, travers.jpg, dunham.jpg; captions: Michael Latimer (Kroon), Susan Travers (Arlette), Joanna Dunham (Arlette)

MAIGRET

Watching only a couple of episodes enables the viewer to see whose shadow is just around the corner: French novelist Georges Simenon's Maigret. Being an expert neither on the character nor the author I still want to establish a common ground. Like Maigret, Van der Valk is a police procedural. The story develops mainly through dialogue. More and more parts of the jigsaw are gathered after each encounter between the investigator and the suspects and witnesses. The pace of the narrative, therefore, is rather slow. While much attention is on the crime and on the perpetrators/victims, the focus is also on the protagonist and his reactions and feelings towards the events he finds himself involved in. The episodes Rich Man, Poor Man, Diane, The Adventurer, and Elected Silence are good examples.

Picture 8: foster-rose.jpg, Picture 9: sheard.jpg (caption: Michael Sheard in Elected Silence)

CREEP?

Probably in order to establish differences to the character of Maigret the scripts elaborate the commissaris' idiosyncrasies in loving detail. Van der Valk is often arrogant, annoyed, impatient, rude, supercilious. His mind is constantly focused on eating and drinking (in one episode he even steals a bottle of beer from Inspector Kroon). His real-life counterpart once admitted in an interview that this is very much like him! How Van der Valk treats his wife is often beyond description and may well be considered appalling by feminists. All this makes one wonder how such a creep can be watched for 50 minutes, but after all we're dealing with a character permanently exposed to – and bogged down by? - the violent side of human life.

Picture 10: foster-enemy.jpg, Picture 11: stock.jpg (caption: Nigel Stock as Samson)

SIDEKICKS

Van der Valk is the principal figure in a series of novels by British writer Nicolas Freeling (*1927) who created the character in the 1960s. Freeling wrote ten novels between 1962 and 1972:
- Love in Amsterdam (1962),
- Because of the Cats (1963),
- Gun Before Butter (1963),
- Double Barrel (1964),
- Criminal Conversation (1965),
- The King of the Rainy Country (1966),
- Strike Out Where Not Applicable (1967),
- Tsing-boum (1969),
- The Lovely Ladies/Over the High Side (1971),
- A Long Silence (1972), followed by the "resurrection" novel
- Sand Castles (1989).
Due to reasons uncertain, none of Freeling's plots was used for the series. It has been pointed out that the Van der Valks of the novels are anti-Amsterdam and anti-Holland occasionally which would have added an unwarranted flavour to the series. In the TV version Van der Valk's wife Arlette (played first by Susan Travers, then by Joanna Dunham) is a good-natured, long-suffering housewife. Several other characters joined Van der Valk's crimefighting efforts: Kroon (in the first two series), Hoofdcommissaris Samson (played first by Martin Wyldeck, then by Nigel Stock), Hoofdcommissaris Halsbeek (played by Sydney Tafler). Alan Haines as Brigadier Mertens and Dave Carter as Brigadier Striebos had minor roles. This pre-Bergerac assortment of memorable sidekicks accounts for the series qualifying as "viewer-friendly" (see above). What novel and TV version share apart from the slow narrative is the structure ("a succession of nasty interviews" as one reviewer put it) and the Commissaris' low popularity on the force: he is only tolerated because of his results.

Pictures 12-15: tafler.jpg, wyldeck.jpg, haines.jpg, carter.jpg

LEADS

Leading man Barry Foster, born on August 21, 1931 in Beeston/Nottinghamshire, is best remembered for his performance as killer-rapist Robert Rusk in the 1972 Hitchcock film Frenzy. Before 1972 Foster appeared as character actor in dozens of big screen films, including David Lean's Ryan's Daughter (1970). He was also a frequent guest star on TV, appearing in Smiley's People and Death of an Expert Witness. His TV series apart from Van der Valk were Skyport (1959), The Troubleshooters (1965), and Orde Wingate (1976). Series guest appearances include Bergerac (episode The Last Interview) and Inspector Morse (episode The Last Enemy), and he was also in the first Sweeney feature film, this time playing the villain for a change.
Michael Latimer appeared in A Man for all Seasons and in the Hammer film Prehistoric Women (aka Slave Girls) and went on to brief leading man status in Pete Walker's Man of Violence, a low-budgeted crime drama/exploitation spectacle (if you ever have the opportunity to see this film don't let it pass – it IS bizarre!). His TV guest appearances include The Avengers, Special Branch, The New Avengers, The Sweeney and The Professionals. He is now a successful theatre director, in great demand worldwide.
As in many British series which preceded the groundbreaking Euston production The Sweeney, the emphasis in Van der Valk is on plotting and characterization. It doesn't follow, though, that the narrative has to be highly complicated in order to maintain interest. In A Death By the Sea, for example, Van der Valk faces the simple question whether his prime suspect Van Teeseling (Patrick Allen) did kill his wife or didn't. In the ensuing cat-and-mouse-play Foster's and Allen's performances absorb all the attention. This leads us to a third major asset of Van der Valk (and of British series in general): excellent acting. Studio-bound VTR productions bear a close similarity to stage plays which is why competent actors are a necessary prerequisite.

THE VTR SERIES

Once the viewer manages to accept the series' style and the leading man there is almost never a weak episode. In the first series, Paul Eddington (The Adventurer) and Geoffrey Bayldon (after Catweazle, almost unrecognizable in Blue Notes) had memorable guest appearances. Crimes committed in the past or retaliatory action for such crimes featured prominently. The directing talents of Graham Evans (Destroying Angel) and Marc Miller (Blue Notes) deserve a nod.

Pictures 16-18: bayldon.jpg, adventurer.jpg, merrow.jpg

For the second season Robert Banks Stewart became script editor and saw to it that the standard set by the first series was maintained. Memorable performances include Lalla Ward (The Rainbow Ends Here) and Lisa Daniely (Season for Love). This season's arguably best segment is A Dangerous Point of View, directed by Jim Goddard. Nobody is really what they seem to be, the police do not look too well, and the political viewpoint is almost left-wing, anti-establishment at least, which is highly unusual for any TV production of the early 1970s.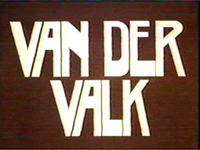 THE FILMED SERIES

In 1977 Euston took over. They gave Van der Valk the Special Branch treatment, i.e. they transferred a tape show to 16mm film. As a result the series became a bit more physical. Sweeney directors William Brayne, Tom Clegg and Mike Vardy contributed competent action scenes but the resulting blend of vintage Van der Valk with a bit of Sweeney location work and a contemporary edge thrown in (juvenile delinquency in Man of Iron and Gold Plated Delinquents, Van der Valk and Arlette hunted down by an invisible killer in Enemy) does not seem to have impressed many (re)viewers:
"The filmed series was a disappointment, the stories seeming very thin." (Halliwell's Television Guide, p. 660)
To Foster's disappointment, no more than 12 episodes were made. Euston went on to produce series 4 of The Sweeney. Chris Burt, Associate Producer on Van der Valk, said there were poor production conditions due to a trade union row:
"The problem with Van der Valk was that it went off at half cock because it was going very smoothly then there was a major hiccup which set it back and all the energies of the production team and everybody else went into just ensuring that it would be done. Then we suddenly had the go ahead and we had to go then and the scripts got behind and everything else got behind so it didn't have the sort of smooth run up it should have had or the real sort of location finding it needed." (quoted in Alvarado/Stewart, Made for Television, p. 69)
I think Mr Burt is too modest here. The third season episodes still maintain interest effortlessly. The stories are always worth following. The people of Amsterdam still commit their crimes of passion and greed although there is more emphasis on low life and crime-in-the-streets. Generally there are interesting characters, and the leading man is obviously at ease with his role.

Pictures 20-21: shirley.jpg, taylor.jpg (Caption: Lloyd Shirley and George Taylor, Executive Producers of Season 3)

RESURRECTION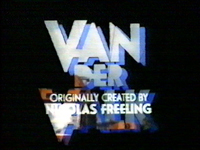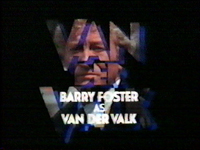 The revival series, seven two-hour films which were first shown in 1991 and 1992 respectively, reveal much higher production standards. The main title theme was revamped, glossy photography replaced the 16mm documentary film look, and Van Der Valk was now endorsed by Audi. The shadow of Maigret is still there but Inspector Morse's/John Thaw's (to whom the aged Foster bears a good deal of resemblance – in fact he is quoted as saying he owed much of his success to this resemblance) looms even higher. It seems a sound guess that without the worldwide success of his former ally Ted Childs' series executive producer Lloyd Shirley (who had been responsible for all 1970s series) would not have initiated a resurrection of Van der Valk. On the other hand it must have seemed a logical step to bring new life to the predecessor of the successful and trendsetting 1980s detective shows. No chances were taken, though: the introduction of Van der Valk's son, Wim, played by Richard Huw, was a concession to younger audiences. Much of the narrative burden was taken off Foster's shoulders. The result, far from being a smash success, is quite impressive sometimes, bringing us closer to the real Amsterdam instead of merely offering picture postcard views. In this context it is noteworthy that the crew was predominantly Dutch except for the key technicians. The Wife was played by Meg Davies, Samson by Ronald Hines.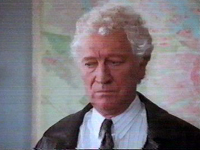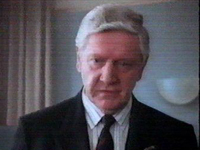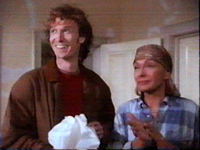 In the pilot, Doctor Hoffman's Children, we see Van der Valk on the trail of a mysterious serial killer. What's the pattern, what's the motive, and above all, who's the perpetrator? The story is ingeniously written, and Anthony Simmons' (The Professionals, Inspector Morse) direction is skilful and well-paced as usual. All in all, the new Van der Valk was doubtlessly up to the 1990s standards. Why it failed to attract a large following and a loyal audience is a mystery to me. My best guess is, viewers preferred what they considered the "real thing", i.e. Inspector Morse, the quintessential thinking man's detective show of the last two decades and admittedly more sophisticated than Van der Valk.
There is a sad final note to the whole Van der Valk chapter – regrettably Barry Foster died of a heart attack on February 11, 2002.
But his arguably best role is here to stay. The first 13 episodes of this excellent drama series were released on video and DVD in 2002.

EPISODE GUIDE

First series 1972
Executive Producer Lloyd Shirley Producer Michael Chapman Associate Producer Geoffrey Gilbert
(1.01) One Herring's Not Enough tx 13.09.72 Guest Stars Clifford Rose Michael Turner Colin McCormack Designer David Marshall Writer Michael Chapman Director Dennis Vance
GERMAN: Der Doppelmord
(1.02) Destroying Angel tx 20.09.72 Guest Stars Artro Morris James Cairncross George Howe Richard Hurndall Patricia Quinn Walter Brown Jonathan Newth Clifford Parrish Designer Peter Le Page Writer Michael Chapman Director Graham Evans
GERMAN: Gift
(1.03) Blue Notes tx 27.09.72 Guest Stars Geoffrey Bayldon Edgar Wreford Peter Pratt Julian Somers Hilary Dwyer Designer David Marshall Writer Geoffrey Gilbert Director Marc Miller
GERMAN: Anonyme Briefe
(1.04) Elected Silence tx 04.10.72 Guest Stars Michael Sheard Damien Thomas Lillias Walker Designer Tony Borer Writer Geoffrey Gilbert Director Douglas Camfield
GERMAN: Mauern des Schweigens
(1.05) Thicker Than Water tx 11.10.72 Guest Stars Pauline Letts David Leland Billy Hamon Michael Lees Richard Smith Joyce Heron Designer Roger Allan Writer Geoffrey Gilbert Director David Wickes
GERMAN: Dicker als Wasser
(1.06) The Adventurer tx 18.10.72 Guest Stars Paul Eddington Harold Goldblatt Nigel Anthony Designer Bernard Spencer Writer Michael Chapman Director Peter Duguid
GERMAN: Der Abenteurer

Picture 27: bluenotes.jpg (Foster + Latimer)

Second series 1973:
Executive Producer Lloyd Shirley Producer Robert Love Script Editor Robert Banks Stewart Designers Neville Green Mike Hall
(2.01) A Death By the Sea tx 29.08.73 Guest Stars Patrick Allen Joanna Dunham Writer Philip Broadley Director Don Leaver
GERMAN: Das letzte Bad
(2.02) A Man of No Importance tx 05.09.73 Guest stars Patricia Lawrence Karin Fernald Kevin Stoney Ian Fairbairn Writer Arden Winch Director Douglas Camfield
GERMAN: Der Tote im Lastkahn
(2.03) A Rose from Mr Reinhart tx 12.09.73 Guest stars James Cossins Denis Lill Carolyn Courage Paul Hastings Ingrid Hafner Nicolette McKenzie Arne Gordon Writer Peter Yeldham Director Mike Vardy
GERMAN: Eine Rose von Mr Reinhart
(2.04) A Dangerous Point of View tx 19.09.73 Guest Stars Lois Baxter Leon Vitali Paul Hardwick Stephan Kalipha Barrie Houghton John Quarmby Pamela Duncan Sally Sanders Writer Jeremy Paul Director Jim Goddard
GERMAN: Tödliche Beobachtung
(2.05) Season for Love tx 26.09.73 Guest Stars Lisa Daniely Ronald Leigh-Hunt John Bailey Writer Philip Broadley Director Mike Vardy
GERMAN: Liebe in Amsterdam
(2.06) Rich Man, Poor Man tx 03.10.73 Guest Stars Roy Boyd Keith Buckley Christopher Benjamin David Webb Writer David Butler Director Douglas Camfield
(2.07) The Rainbow Ends Here tx 10.10.73 Guest Stars Lalla Ward Christopher Timothy Robert Swan Donald Burton Writer Philip Broadley Director Graham Evans

Third series 1977:
Executive Producers Lloyd Shirley George Taylor Producer Geoffrey Gilbert Associate Producers Chris Burt Mary Morgan
(3.01) Enemy tx 05.09.77 Guest Stars Jim Norton Donald Gee Brian Gwaspari Writer Paul Wheeler Director Mike Vardy
GERMAN: Der geheimnisvolle Feind
(3.02) Accidental tx 12.09.77 Guest Stars Patrick Troughton William Russell Hildegard Neil Writer Ted Childs Director Tom Clegg
(3.03) The Runt tx 19.09.77 Guest Stars Richard Pasco Maurice O'Connell Ken Kitson Writer Leslie Sands Director Mike Vardy
GERMAN: Die Schatzgräber
(3.04) Wolf tx 26.09.77 Guest Stars James Grout Lorna Heilbron Sam Dastor John Price Bernice Stegers Writer Philip Broadley Director Mike Vardy
GERMAN: Müllers goldene Feuerzeuge
(3.05) Man of Iron tx 03.10.77 Guest Stars Morris Perry Philip Sayer Michael Da Costa Jon Morrison Writer Michael Chapman Director William Brayne
GERMAN: Der Jugendclub
(3.06) Everybody Does It tx 10.10.77 Guest Stars Maurice Colbourne Suzy Kendall John Standing Writer Philip Broadley Director Ben Bolt
GERMAN: Der gestohlene Mantel
(3.07) Face Value tx 17.10.77 Guest Stars Clifford Rose Denis Lill Ian Lowe Writer Robert Wales Director Mike Vardy
(3.08) Dead on Arrival tx 24.10.77 Guest Stars Pamela Salem Michael Culver Bob Hoskins Writer Patrick O'Brien Director Ted Childs
GERMAN: Tod in der Luft
(3.09) The Professor tx 31.10.77 Guest Stars Karl Howman Michelle Newell Don Henderson Elizabeth Kennedy Jennifer Daniel Jeff Rawle Geoffrey Palmer Christopher Timothy Writer Roger Marshall Director Ted Childs
GERMAN: Der Professor
(3.10) In Hazard tx 07.11.77 Guest Stars Jan Harvey Michael Petrovitch David Wood Richard Hurndall Michael Lees Jon Croft Writer Paul Wheeler Director William Brayne
(3.11) Gold Plated Delinquents tx 14.11.77 Guest Stars Ian Hendry Phoebe Nicholls Lisa Daniely Writer Roger Marshall Director Tom Clegg
GERMAN: Die jungen Diebe
(3.12) Diane tx 21.11.77 Guest Stars Jane Merrow Alexander Davion William Ellis Writer Philip Broadley Director Mike Vardy
GERMAN: Gefahr für Diane

Fourth series 1991
Executice Producers Lloyd Shirley Brian Walcroft Producer Chris Burt
(4.01) Doctor Hoffman's Children tx 16.01.91 Guest Stars Tom Bell Sara Kestelman Philip Locke Amanda Burton Writer Jonathan Hales Director Anthony Simmons
(4.02) Dangerous Games tx 23.01.91 Guest Stars Tony Rohr Trevor Peacock Writer Don Shaw Director Jim Goddard
(4.03) A Sudden Silence tx 30.01.91 Guest Stars Ciaran Madden Kenneth Graham Nicholas LePrevost Felicity Dean Geoffrey Beevers Shane Rimmer Writer Keith Dewhurst Director Herbert Wise
(4.04) The Little Rascals tx 06.02.91 Guest Stars Geoffrey Bayldon Derek Fowlds David Schofield Kika Markham Writer Peter Buckman Director Alan Cooke

Fifth series 1992
Executice Producers Lloyd Shirley Brian Walcroft Producer Chris Burt
(5.01) The Ties That Bind tx 05.02.92 Guest Stars Brian Cox Malcolm Tierney Terence Rigby Anthony Valentine Writer Kenneth Ware Director Anthony Simmons
(5.02) Proof of Life tx 12.02.92 Guest Stars Paul Freeman Stephen Moore Maggie Steed Ralph Brown Edward Judd Writer Keith Dewhurst Director Tom Clegg
(5.03) Still Waters tx 19.02.92 Guest Stars James Laurenson Stephanie Turner John Vine Tony Caunter Oliver Ford-Davies Angela Bruce Writer Stuart Hepburn Director Herbert Wise

Postscript:
Van der Valk completists will find it interesting that there were other productions based more closely on Freeling's novels. Three early 1970s German productions had Frank Finlay in the title role, and Francoise Prevost as Arlette:
Van der Valk und das Mädchen (1972, w Robert Muller, d Peter Zadek, based on Gun Before Butter)
Van der Valk und die Reichen (1973, w Robert Muller, d Wolfgang Petersen, based on King of the Rain Country)
Van der Valk und die Toten (1975, w Robert Muller, d Marcel Cravenne, based on ? – all credits tbv)
In 1972 Dutch filmmaker Fons Rademakers based his film Because of the Cats on the 1963 Freeling novel of the same title. Van der Valk was played by a familiar face: Bryan Marshall. Edward Judd and George Baker are in it as well, and one character is called Boersma, just as in Roger Marshall's Gold-plated Delinquents which has a similar (albeit considerably less violent) plot. The screenplay was by Hugo Claus.
In Gerry O'Hara's Amsterdam Affair (1968) we see German actor Wolfgang Kieling starring as Van der Valk, investigating the murder of a promiscuous woman, alongside William Marlowe and Catherine Von Schell. The screenplay was written by Edmund Ward.
The German version of this cinematic release is worth a few remarks because they show how German television logic used to work. The film was cut to 70 minutes approx and shown as an instalment of Thriller (the equivalent of the Who Killed Lamb? phenomenon)! To top that, Kieling was not billed as "Van der Valk" because until one year ago German audiences had identified Barry Foster with this role. A second "Van der Valk" would not have been acceptable! O'Hara's film BTW is based on the novel Love in Amsterdam, which was chosen as the German title for the S2 episode Season for Love.


---
Sources:
Manuel Alvarado/John Stewart: Made For Television. Euston Films. London, BFI 1985
Jovan Evermann: Der Serien-Guide, Berlin 1998
Simon Harries: Barry Foster interview, The Illustrated Gazette Vol I, No.2.
Dave Rogers: The ITV Encyclopedia of Adventure, London 1988
Steve Rogers: Michael Latimer interview (yet to be published)
Van der Valk Annual. Brown Watson 1978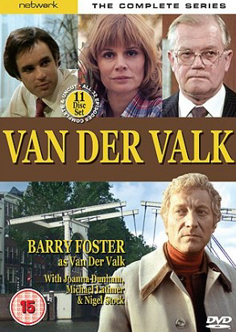 Video:/DVD
Van der Valk: The Complete Series (Network DVD)
Box Set Series 1 and 2 (Clear Vision)
Complete Box Set Series 1 to 5 (Network)
One Herring's Not Enough/Destroying Angel (The Video Collection, deleted)
The Adventurer/Thicker Than Water (Video Gems, deleted)

Special thanks to JAMES WILLIS for providing the original viewing material.

This is an unofficial and non-commercial website. The rights to Van der Valk are held by FremantleMedia. The sole purpose of this page is to promote the abovementioned series - no copyright infringement is intended. However, should the copyright holders be unhappy with my use of screenshots the material in question will be removed immediately.