SARACEN
---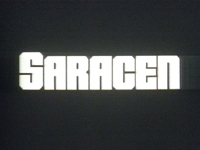 When top-level security operations are too dangerous - or too embarrassing - for official agencies, they call in Saracen Systems, London's (fictional) elite private security company. Specialists in bodyguard work and VIP protection, the organization's top operatives are David Barber, an ex-SAS major, and Tom Duffy, a former member of the US army's Delta Force team.Their clandestine missions take them from London to worldwide hotspots.
Taking a break from his smash hit Inspector Morse, producer Ted Childs managed to provide a top-notch action series. The production teams are essentially the same. The idea for this series came from TV presenter Chris Kelly after a chance meeting with an operative of an agency similar to Saracen. Barber and Duffy are, in effect, successors to Doyle and Bodie of The Professionals - all of us surely remember that they had their share of bodyguard jobs in Blind Run and The Ojuka Situation - and predecessors to Curtis and Keel of The New Professionals.
If you don't know this series check it out. Yesterday if not sooner!

EPISODES
Starring Christian Burgess (David Barber) Patrick James Clarke (Tom Duffy) Michael Byrne (Patrick Ansell) John Bennett (Eric Nugent) Ingrid Lacey (Alice Kavanagh)
Creators Chris Kelly Ted Childs Producer Deirdre Keir Executive Producer Ted Childs Music Barrington Pheloung Stunt Arranger Peter Brayham
Episode synopses provided by TV Times

(Pilot) The Zero Option tx 19.11.88 Stephen Hattersley (Barber) John Walton (Carne) Eric Flynn (Ansell) Joanna Phillips-Lane (Alice) Suzan Crowley (Sally Barber) Jack McKenzie(Dunstan) Kate Mitchell (Cheryl) Sally Jackson (Stephanie) Michael McStay (Quentin Collins) Robin Lermitte (Ronnie Collins) Robert Gwilym (Hewitt) Linal Haft (Riley) Richard Heffer (Danby) David Henry (Commander) Adam Hussein (First Secretary) Stunt Coordinator Roy Alon Aerial Stunt Andy Bradford Tip Tipping Stunts Del Baker Jim Dowdall Gareth Milne Val Musetti Greg Powell Colin Skeaping Paul Weston Special Effects Supervisor Arthur Beavis Writers Chris Kelly / Ted Childs Based on an orginal idea by Chris Kelly Script Editor Patrick Harbinson Music Geoff MacCormack Simon Goldenberg Designer Ken Ryan Editor Nigel Mercer Casting Marilyn Johnson Lighting Cameraman Ian Hollands Second Unit Photography Paul Rudge Assistant Robin McDonald Stunt Pilot John Jordan Associate Producer Laurie Greenwood Producer Chris Griffin Director Sarah Hellings
GERMAN: Die Null-Lösung
All in all excellent pilot, the middle part a bit long-winded (just a bit). Hypnotic, enhancing musical score, breathtaking stuntwork by Roy Alon and the crème de la crème of British stuntmen. Formidable direction and a script that is mostly state-of-the-art (and that includes the days of Bodyguards and Ultimate Force). The hostage crisis is set up cleverly (not shown for a long time, all you get is the terrorist's voice). An unusual angle which works very well.
(1.01) Decoy tx 02.09.89 Guest Stars Stratford Johns Lynsey Baxter Derrick Branche Writers Chris Kelly Ted Childs Director Peter Hammond
GERMAN: Arme Lockvögel
Saracen become involved with murder and financial intrigue on the Costa del Sol. Barber and Duffy are hired to provide protection to wealthy British financier Bernard Kyle and his guests. Mayhem erupts in the millionaire resort of Puerto Talavera when a retired American general is shot dead while leaving Kyle's yacht.
(1.02) Infidels tx 09.09.89 Guest Stars Nadim Sawalha Zia Mohyeddin Geoffrey Hutchings Rita Wolf Writer Robert Hammond Director David Tucker
GERMAN: Verlorene Prinzessin
Someone has attempted to kill an Arab princess studying in Oxford. Assigned to protect her, Barber and Duffy accompany her back to her country's embassy in Bonn, where a tangled political web involving a missing British journalist leads to a dramatic climax.
(1.03) Proof of Death tx 16.09.89 Guest Stars Alfred Molina Nicholas Farrell Nick Dunning Writer John Foster Director Ian Knox
GERMAN: Tod in den Bergen
When a TV crew are kidnapped in a South American republic, Barber and Duffy begin a desperate race against time to release the victims before the ruthless rebel forces carry out their threats.
(1.04) Robbers tx 23.09.89
GERMAN: Zwei Galgenvögel
(1.05) Into Africa tx 30.09.89 Guest Stars Lisa Eichhorn Malcolm Terris Geff Francis (James Cosmo - tbv) Writers Chris Kelly Ted Childs Director Tom Clegg
GERMAN: Hinterhalt in Afrika
Carrying refining equipment into a central African gold mine turns out to be one of Barber's and Duffy's most hair-raising assignments, as they contend with guerilla attacks, hostile terrain, and a shattering act of treachery.
(1.06) Starcross tx 07.10.89 Guest Stars Suzanna Hamilton Patrick Drury Michelle Fairley Writer Ted Childs Director Antonia Bird
GERMAN: Herz gegen Verstand
David Barber's romance with an Irish doctor becomes fraught with danger when her family reveal their past connections with the IRA.
(1.07) Tooth and Claw tx 14.10.89 Guest Stars Lee Montague Vickery Turner David Hargreaves Leo Dolan Nina Marc Writer Chris Kelly Editor Brian Freemantle Camera Operator Nigel Slatter Special Effects Dave Beavis Designer David McHenry Lighting Cameraman Ken Westbury Director Roy Ward Baker
GERMAN: Ein Leben für die Wissenschaft
Threats from an animal rights group towards a top cancer specialist escalate into frightening violence.
(1.08) Crossfire tx 21.10.89 Guest Stars Derek Newark Lou Hirsch Stephan Kalipha Timothy Carlton Brian Hall Writer John Brown Director Ian Knox
GERMAN: Im Kreuzfeuer
While Duffy is helping an old friend out of trouble in North Africa, Barber is assigned to protect a young Arab prince in London.
(1.09) Ratline tx 28.10.89 Guest Stars Tomek Bork Barrie Houghton Michael Culver Writer John Fletcher Lighting Cameraman Dusty Miller Operator John Maskall Director Willi Patterson
GERMAN: Erster und letzter Preis
While East European trade union leader Jan Naugi is awarded a major international prize for his human rights work, Barber and Duffy are employed to look after him during his stay in Britain.
(1.10) Three Blind Mice tx 04.11.89 Guest Stars James Grout Edward Wiley Claire Byram Shaw Ken Parry Writer Chris Kelly Editor Brian Freemantle Operator John Maskall Director James Ormerod
GERMAN: Drei blinde Mäuse
Assigned to protect a group of African politicians, Barber and Duffy find themselves facing a sinister and shadowy figure from Duffy's past.
(1.11) Next Year in Jerusalem tx 11.11.89 Guest Stars David Ryall Philip Locke Geoffrey Chater Writer Michael Russell Director Antonia Bird
GERMAN: Nächstes Jahr in Jerusalem
Barber and Duffy have to protect a retired Nazi hunter who claims his life is in danger.
(1.12) Girls' Talk tx 18.11.89 Guest Stars Clive Francis Pippa Guard Christopher Benjamin Michael Sheard Terry Plummer Writer Tony McHale Director Roger Tucker
GERMAN: Falsche Liebhaber
At an idyllic country hotel Barber and Duffy are protecting a scientist engaged in selling a pesticide production plant to a delegation from a Middle Eastern country. Back in London, Alice uncovers a plan of real villany.
Terrific direction, an absolute must-see!
(1.13) Reaper tx 25.11.89 Guest Stars Jolyon Baker Rowena Cooper Lesley Nightingale Marc Zuber Writer John Foster Director Laurence Moody
GERMAN: Todesengel
A Saracen training exercise for some Arab intelligence recruits goes horribly wrong when a real assassin infiltrates the safe house.
Outstanding scriptwriting, and yet another example of top-notch direction (check out Moody's contributions to Strangers, Bergerac and The Chinese Detective).

Special thanks to the mighty Mark Anthony Craig who provided the original viewing material!


---
DVD:
Saracen: The Complete Series (Network DVD)

This is an unofficial and non-commercial website. The rights to Saracen are held by Central Television. The sole purpose of this page is to promote the abovementioned series - no copyright infringement is intended. However, should the copyright holders be unhappy with my use of screenshots the material in question will be removed immediately.