ROGER TUCKER: SCRIPTWRITER AND DIRECTOR
---

Roger Tucker has directed outstanding episodes of classic TV series such as Shoestring, The Professionals, Fallen Hero, Bergerac, Saracen, Dempsey & Makepeace, Strangers and Chessgame. He worked in the Netherlands, in Germany and in India, and latterly he directed the feature film Waiting for Dublin.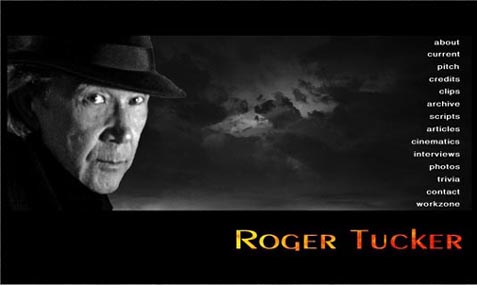 Roger was one of the first people to give me more than the time of day when I was compiling the "Professionals" book. Ever since, he has been one of my most important allies, because he - sometimes directly, sometimes indirectly - confirms my underlying view that there are strong creative forces at work in episodic television*, which turns it into a format worth looking into and meriting in-depth analysis of work flows and content.

(*Episodic television is my own main concern. I have no wish to insinuate that Roger is an "episodic television director" - he wouldn't like that!)

Despite a busy schedule, he found the time to edit together, from our conversations, two interviews in which we tackle the "classics", from Crown Court to The Bill. I'm not exactly a born interviewer, but thanks to Roger's input every time we speak sparks fly around, leading to fascinating insights.

Of course his website also gives an overview of his current projects and completed screenplays. You can check it out here:

http://www.rogertucker.co.uk

Latest additions include a very exciting, very detailed and very personal account of the filming of The Hood and the Harlequin, from the initial season of Bergerac.