IN MEMORIAM:
WILLIAM BRAYNE (1935 - 2014)
---

German TV mags used to list Bill's name regularly when I was a young chap of, say, 13 years of age. Whenever TV channels showed an import from the UK, be it Van der Valk, Special Branch, The Sweeney, The Professionals, even the very obscure Bulman - Bill's name was bound to crop up. He was, at least to us readers of the small print, simply ubiquitous. He was constantly in demand, and even the untrained eye was able to see he excelled at shooting "action" - fights, gun battles, car chases, parachute jumps, explosions, airplane stunts, you name it. He was the Guy Hamilton of the small screen.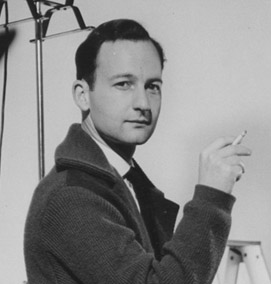 The new hopeful at CBC. (c) C. W. Brayne estate
When I was much older than 13 and studying at Cologne University, Bill's name came up again, this time in the shape of a "cinematographer" credit. One of my courses dealt with American documentary film, and the seminal works under scrutiny included Fred Wiseman's Basic Training.

Thanks to the power of the internet, we eventually met - the irony being that we'd been living very close to one another for a number of years. Bill's wife Ellen was German, so the two had rented a flat in Lindenthal (the equivalent of Mayfair or Kensington for those who don't know it).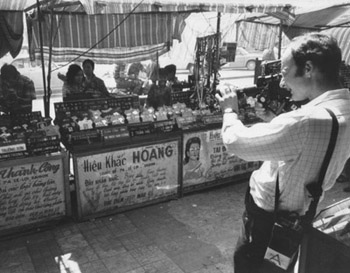 Bill filming in Saigon, for World in Action. (c) C. W. Brayne estate
The first "date" took place on Monday, 12 January 2004. He wore a French cap, and to quote a terrific line from one of his Professionals episodes, he was smaller than I'd imagined (which sounds a bit rubbish, I know, given that I'm rather short myself). He quickly noticed I - as a German - knew all about Euston Films and a great deal about Mark 1 Productions. Yes, I had done my homework: I was writing my "Professionals" book at the time.

Which didn't mean at all that he trusted me. That came much later I guess.

In a preview of all that was to come, he remarked that the place I'd chosen for the meeting (simply because it was half way between our respective flats, and he'd left the choice to me) - had "got no style".
When he invited me to dinner at his place to introduce me to his wife, he continued in the same mood. When we sat there and enjoyed food and drinks, he said, "That's nothing, I can cook something really sophisticated ... when someone important comes." However, I'm pleased to say that combination worked. The three of us often sat down and discussed the ways of the world until the small hours.

The different worlds we came from could provide moments of abundant hilarity. At one point, Bill and Ellen made the point that Canada was having problems from an economic point of view because there were no exports to speak of. I said, "I think you're wrong there." Ellen replied, "Really? What is it they could possibly offer to the world?" I said, with deep conviction, "Rock music." She stared at me, repeating my words, trying to suppress laughter. "It is an economic factor", I explained, "and anyway, it's great stuff." Ellen was unable to keep a straight face, once again repeating my words. I offered to bring along samples from my collection, but she wouldn't hear of it ...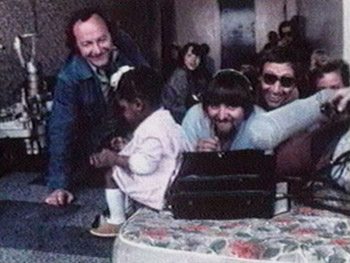 Bill (L) filming the Sweeney episode Jigsaw. (c) Network
Returning once more to that first meeting, I remember being really sad afterwards because here was a man who seemed disillusioned. In theory, he was still able to work and deliver the goods but he no longer "got the call". As I would find out over time, this wasn't simply because he was old. Rather, he was "old school" - not interested in being diplomatic or prone to the modern mandate of self-promotion. He wanted his craft to speak for him and succeeded in pursuing a career as a journeyman director for as long as producers appreciated his approach.

The first of those producers was Lloyd Shirley, one of the many Canadians who gave British television a massive "kick up the arse". He hired Bill for the first filmed series of Special Branch. Bill had never directed anything before, and he always claimed he was hired by mistake. But Shirley was impressed by his fellow countryman's efforts, and Bill later explained why: "I brought them in on time. They couldn't believe it!!" Special Branch was not a smooth-running operation from day one, not surprisingly so because it was a radical departure from the way British TV drama was usually shot. The newcomer was without experience, true, but he was a skilled cinematographer and he was familiar with all the American film books on economic shooting practices.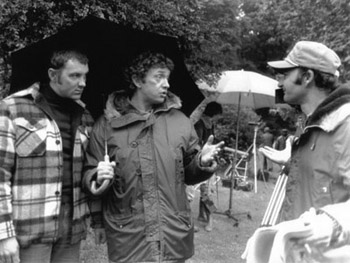 Bill in discussion with Martin Shaw and Lewis Collins, filming the Professionals episode Heroes. (c) Mark 1 Productions
On The Professionals, he was Raymond Menmuir's most important ally in the director's chair. For any episode directed by "the demanding ones", like Martin Campbell, Dennis Abey and Roger Tucker, you had to have one directed by "the loyal one".

Over four years and as many seasons, Bill filmed a whopping 10 episodes for The Professionals. He was repeatedly given material where he couldn't shine (the complicated Need to Know, the depressing Mickey Hamilton, the action-less The Untouchables), but he didn't complain and got the job done. Writer - and critic - Christopher Wicking, responsible for the Mickey Hamilton script and one of the first people to offer intellectual insights into episodic television productions, famously praised Bill's contribution as "directing for the whole as opposed to directing for the parts".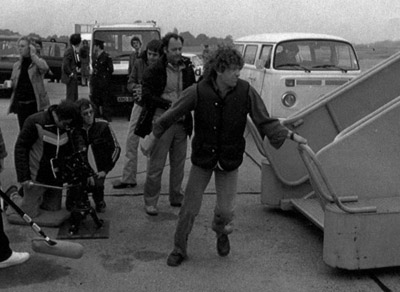 Bill directing the opening sequence of Slush Fund. (c) Mark 1 Productions
Naturally, I mentioned the Slush Fund Jaguar stunt several times, trying to be diplomatic. After all, the things that went wrong there were not his fault. When I mentioned the inevitable he said, "No, I'm sure you don't see the heads falling off."
Slush Fund was filmed at a time when about 99 per cent of the population had no VCRs to fast-rewind and double-check, and I'm not even mentioning computer technology which might help ironing out all kinds of goofs. They thought they'd get away with it, and for budget reasons they had no choice but to use the best take anyway.

Menmuir made sure Bill was not only given dialogue-heavy ones (if that is an appropriate term for a Professionals episode at all). Foxhole on the Roof came along, and whenever he talked about it you could hear something like pride between the lines ....

The third producer to draw on Bill's experience was Richard Everitt who, emulating the Special Branch approach, set out to transform the little known, underestimated and quirky Strangers into an all-film series. It worked. After merely finding its feet during its videotaping period, Strangers came into its own with superb segments such as Bill's Armed and Dangerous and The Moscow Subway Murders.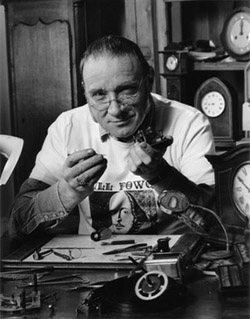 Bill's favourite actor: Don Henderson as George Bulman. (c) Granada Media
By the time we met my eye was no longer untrained. I was able to see - and to prove - that Bill shot terrific stuff. He was not a film student, but he operated on instinct. He was a natural talent, and very often he not only got it right but added that famous extra dimension to it.

However, Bill was extremely reluctant to offer insights into his work, always afraid of over-emphasizing his own contribution. This impression was shared by Prof. Carolyn Anderson, one of the very few people who, to his eventual dismay, got Bill talking: "I did it only as a favour to Fred Wiseman." I'm eternally grateful to her for sending me her original interview tapes, because this means I have a record of Bill's characteristic North American drawl, very similar to that of actor Peter Falk.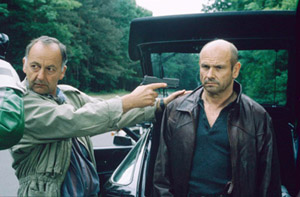 Bill directing Klaus Loewitsch in Zorc. (c) C. W. Brayne estate
In one of our countless "sessions" he told me that he only remembered the problems of any given production. Fittingly, his account of events which led to the removal of the "hanging" scene in his Dempsey and Makepeace episode (Judgment) was one of fascinating detail. That tells you a lot about Bill Brayne. Never mind that great scene, never mind that great stunt, something went well, it's finished and done, and on we go to the next set-up.
On the other hand, something goes wrong, and it stays with you forever.

Keeping Bill company, being a sissy wouldn't help. He referred to me as "my only fan" and, very charmingly, as looking "like a Palestinian terrorist". He was habitually dismissive. "Get a life", he advised. "Why do you live in the past?!", he scolded his young (well ... ) friend, who was merely researching UK-TV and having a lot of fun doing it. When, after seven years of work, the "Professionals" book was finally published, he said, in his inimitable ironic style, "It's probably the best thing since Shakespeare."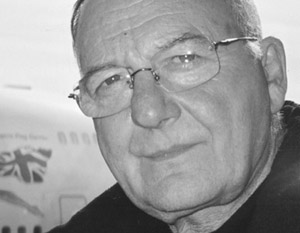 Bill in 2004, photographed by his wife. (c) C. W. Brayne estate
Bill refused to understand and accept fans and fandom. When I explained that there are "conventions" for certain TV programmes this was met with incredulity.
Likewise, Bill did not care about the press, and he did not care about any kind of "coverage" and being in the limelight. Yet, he was severely disappointed when his name was misspelt on a University website and in a "Globe and Mail" Allan King obituary (despite being notified, both contributors refused to apply any corrections, so those mistakes are still there, thank you very much). And he was downright furious when he read certain paragraphs in a Bear Manor publication, which sounded somewhat disrespectful.

But there was also a "collaborative" side to him. During one of his finest hours my partner and I were entertained with Dempsey and Makepeace behind-the-scenes stories after a dinner in an Italian place, where we had been celebrating his birthday. Bill was smartly dressed and at his intellectual best. He was sophisticated and fascinating to watch and listen to. He was ... I'll rephrase that: He could be such a terrific man. If he wanted to.
Bill signing copies of "Die Profis", under the watchful eye of his "terrorist" friend, 2006. (c) Media Gems
His final years in Cologne were overshadowed by his wife's illness. He obviously had trouble coping, increasingly neglecting himself. Ellen passed away. Having decided to move back to Canada, he took his loneliness with him and gave in to self-medicating. His being diagnosed with cancer did not help matters either ...

Clearly, Bill could be brusque and difficult. I never minded that because I saw it as being straightforward. Honesty, modesty, loyalty ranked highly with him. And I would like to think he got something out of our friendship for this very reason.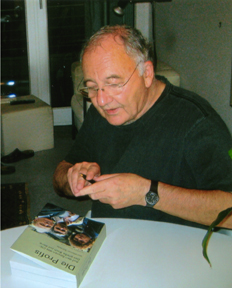 "I don't know why I'm doing this, but if it pleases you ... anything else?" (c) Media Gems
He was like a grandfather to me, and like a good grandson I loved all his "stories", although he always made the point of not coming out of them too well.

I spoke to him for the last time on March 6, 2014. His communication skills were severely limited by then, and both of us were a bit helpless. "Yes", he promised, "I'll try to get better." I did not at all realize the inevitable was on the cards already, and that it would happen so soon.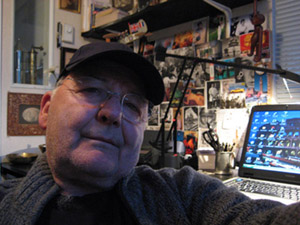 Bill in his office, 2008. (c) C. W. Brayne estate
Bill died in his Vancouver home on April 1, 2014. To me, he'll live forever. I cherish all the memories, good and bad, and I'll always celebrate his works of art.

I have been collecting statements and photographs for many years. A fully fledged tribute is in preparation. It will materialize. Even if it's the last thing I do.

Bill, rest in peace. You are MISSED.